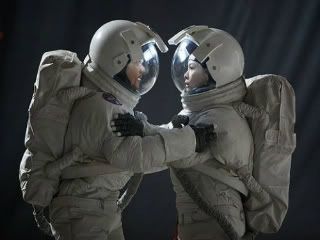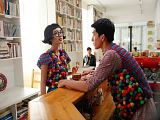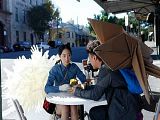 This film which was released just in time to celebrate the Chinese Mid-Autumn festival is a fun and light hearted romantic comedy that inspired me to want to write a love poem after leaving the theater! Did I just say that? Well, maybe not actually write a poem but it definitely made me want to drunk dial someone to empty out a bottle of aged feelings!
The relationships in the movie are a bit contrived but then again what big screen love story isn't? Corny but charming might be a few good words to describe the film! To be honest, I normally don't gravitate towards a lovey dovey piece like this but a free screening doled out by the gracious Subway Cinema changed that thinking pretty quickly and I'm glad because otherwise, I would of probably shelved this one.
To my surprise, the cast was ladened with a few HK & Taiwanese heavy hitting pop stars including
Aaron Kwok
(one of the 4 canto-pop kings of HK which includes Andy Lau, Leon Lai, & Jacky Cheung),
Eason Chan
(canto-pop'in since 1995),
Rene Liu
(Taiwanese actress & pop star), &
Angela Baby
(Taiwanese model & actress). Even Shaw Brother great,
Gordon Liu
makes a cameo in the film as a garbage man entrepreneur!
The foundation of the story centers around a well to do widow and her 3 daughters who are successful with everything they do but struggle with the prospects of finding true love which is further inhibited by their own self esteem issues. Cupid would make its presence known in Beijing, Sydney-Australia, & outer space?! Michael (Aaron Kwok) and oldest daughter, Rose (Rene Liu) tries to spark a 2nd fire in their relationship while working as astronauts on duty in a spaceship in a galaxy far, far away! The 2nd daughter (Gwei Lun Mei) is an artist who battles with an obsessive compulsive disorder while she dabbles in the book of love with Tony (Eason Chan), a complete polar opposite of her that happens to also be a garbage man! The youngest daughter, Pony (Angela Baby) is an actress that just won the 'worst actress' of the year award. She is convinced to go on assignment to work as a server in a cafe to better her acting skills?! Pony would fall as a victim of love to a young & naive boy working 3 jobs to make ends meet which includes being a writer, barista, & peddling watermelons on a tricycle. The mom would also get a 'taste' of companionship, too!
Love in Space
is anything but groundbreaking or thought provoking and is plenty predictable, however the film does provide a fun romp in the galaxy of love which proves furthermore that men are from mars, women are from venus! If romantic comedies are your thing then this is definitely a movie you should add to your database! Listening to the dialogue flow between mostly mandarin to cantonese to a bit of the king's english was really neat, too!
I'll leave you with a music video-trailer of
Love In Space
with a reboot of Teresa Tang's song, "The Moon represents My Heart"!