Comic Con has come and gone, filling me with feelings of fascination and escape. This year saw a new expanded layout, which put gaming tables and an autographing area further from the major booths at the end of a long corridor in the Javitz Center's north wing. This surely helped the flow of traffic and made room for more booths and bigger displays.
There was plenty to get excited about by way of art (both the flat 2-dimensional and 3D toy variety), books, manga (which I guess could count as comics), and innovative products ranging from lucha libre themed flash drives to vibrantly colored dragon and goblin themed backpacks (Creatures of Delight) to sushi shaped pillows (Stuffed Sushi). A major portion of my time at NYCC was spent thrilling to riotously funny panels devoted to comedy programs on cable outlets Adult Swim and IFC. I'll give a separate account of how those went down.
The following is a quick glance at some of the noteworthy finds I made during this unreal weekend.
Manga/Japanese printed Matters
GEN
The folks at upstart manga publisher Gen have a noble cause. They are assembling unrecognized talent from underground manga scenes and putting their translated work out, omnibus style (like manga serials that are regularly published in Japan) as it happens. Rather than wait for months before a volume's worth of chapters can be made available, Gen is putting a new chapter of each story they will carry into each new issue of their eponymous publication. Each volume so far has a color themed cover featuring impressionistic and roughly stylized art. The number of stories being serialized has grown from the original four in the first issue, with genres stemming from a diverse range, and story arcs that are far from typical. Gen 1 features a drama about a man in search of a boxer, seemingly to exact revenge for abandoning his family. "VS Aliens" is a fun story that moves breezily along, telling the story of a girl who suspects a beautiful classmate of being an alien. A male classmate is caught in the middle and to make matters more complicated, the object of suspicion herself begins to have doubts over her supposedly earthly origins. Whether it's a ploy for attention or a real case of visitors from another galaxy remains to be seen. There are also two ancient period based stories, which both incorporate supernatural elements into their narratives.
For more information, visit their website
Gen Manga
which also has information about signing up for a subscription to access each issue online.
VERTICAL
Vertical is probably the publisher of translated Japanese works abroad with the strongest image. They supply readers with an interesting mix of gritty fiction stories, meticulous nonfiction, and edgy manga – including classic and lesser known works by widely acclaimed master Osamu Tezuka. Their Comic Con table is always worth a visit. In the forefront was the first volume of "No Longer Human," a manga reinterpretation of the autobiographical novel by 19th Century author Osamu Dazai by Usamaru Furuya. This follows Furuya's standalone manga "Lychee Light Club" which also looks to past figures of Japan's literary culture for inspiration. "No Longer Human" places Furuya in the narrator's position, updating the story to a contemporary setting, as he walks a thin line between researching and imagining his subject, Oba. Oba shares the name with the protagonist of the original novel. It is a dark story brimming with self-loathing and feelings of detachment from society. Furuya's visuals are realistic at times, but take on monstrous exaggerations that mesh perfectly with the dark subject matter he pursues.
I was also able to find out about a future title to look forward to from one of Vertical's major imports, Koji Suzuki (author of the Ringu triology). At some point we may have a translation of the author's latest novel, Edge. Further distancing the philosophical writer from the J-horror genre that the movie version of Ringu has caused him to be associated with, this new work sounds like an environmental science fiction thriller, in which natural disasters plague the United States' west coast; the cause somehow links a frustrated Mother Nature to mankind's inability to determine the exact numerical value of pi.
Browse Vertical's arsenal here:
Vertical, Inc.
ONE PEACE BOOKS
This is a small independent publisher that also focuses on translating literary works from Japan and operates with a sizable social conscience. They sprung up rather suddenly on Sunday with a table covered with copies of their first manga translated into English, "Breathe Deeply." It is a story that was also promised to stand far outside the realm of mainstream manga stories, which focuses on a love story that unfolds in the midst of medical advances filled with science fiction overtones.
The publisher's list of releases also includes a classic work of fiction by Osamu Dazai.
Check out their catalogue here:
One Peace Books
Films
MAGNET
Magnet, the somewhat edgier little cousin to film distributor Magnolia, had a fun display at this year's event. It served as a reminder of some of the great Asian films to reach American shores this year, with official, subtitled dvd releases of 13 ASSASSINS (Japan), I SAW THE DEVIL (Korea), and nonstop kick to the head BKO (Thailand) for sale. Posters also harkened the arrival of the new horror film by Ti West, The Innkeepers, a few weeks before it premiere's at filmlinc's Scary Movies series. One small request to Magnet – please upgrade the packaging on those dvds…even just a little? I'm all for supporting legitimate companies as opposed to throwing money at bootleggers, but when the product is barely distinguishable from said bootleg, it reduces the incentive. I suppose disc itself may play at a superior quality, but a tad more attention to packaging could go a long way.
Magnet
UNICORN CITY
I did not find myself in front of as many screens as at last year's event. I did catch a part of a very raw cut of this feature length production. It seems to be geared towards a very limited audience – it may make that audience laugh heartily, but there is something to be said for entertainment that reaches beyond a small built-in audience. That fan base in question is Dungeons and Dragon players, as the story centers around a regular player who is down on his luck. He tries to turn his luck in the realm of employment and 'on paper' dragon battling around in one fowl swoop, by leading his D & D group away from the sway of its oily and controlling dungeon master (Jon Gries), thus proving his leadership skills to a would be employer. Really? I could imagine this being a fun story, but the D & D playing seemed to take itself way too seriously. Other attempts at humor were at the most basic level (guy runs and trips; the fat guy can't stop eating the food), but the fact that it had something to do with D & D had that built in audience laughing throughout. The villain, again, had something of a presence. Otherwise, concern for reaching a somewhat broader audience may be necessary to move this film towards receiving wider appreciation.
More info here:
Unicorn City
The Cult Yard
This is a very welcome aspect of the event, and occupies a corner space that I probably find myself walking around the most. This is where visual arts in the form of books, t-shirts, toys, and traditional wall-mounted posters are on display. Most prominent among these is the Dunnys and miniature figures put out by Kid Robot, among other PVC figure loving companies, and designed by various artists. This form of expression shares much in common with the tenets of street art – relatively cheap to produce, low on deep meaning, high on modernity and reproducibility, making it accessible to the masses, while at the same time highly consumable. Here are a few of this year's highlights…
TARA MCPHERSON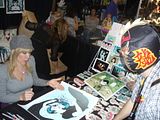 Her presence wowed me at last year's event, and her work still stands as relevant as ever. This year, her booth is set up in the name of her Williamsburg studio/shop Cotton Candy Machine. Having provided a much needed shot in the arm to the rock poster scene, once ruled by guys like Frank Kozik in the 90s, McPherson brings a shimmering, silvery sci-fi fantasy sensibility to posters, books, stickers, and a few PVC figures, which were featured at this year's event. Her work is populated by characters who silently express volumes. There are scowling little boy vampires, icily distant alien chicks, and boys with holes in their chest, no doubt left by an unachievable love, as bubbly hearts are blown through it. It has been love at first, second, and third sight for me, and I can't wait to come across the perfect combination of her striking imagery with a contemporary band that I adore listening to, to make reinvigorate some wall space in these parts.
Check out
The Cotton Candy Machine
I HEART GUTS
This was a cool pop up stores featuring bright colored t-shirts and stuffed doll representations of spleens, livers, and other beloved and less popular organs. Good fun!
iheartguts
ART WHINO
Several striking prints, posters, and paintings were on display here featuring crude art collectives at their most subversive. The range of work here represented Maryland gallery Art Whino. Plenty of amusing recontextualizations were in view. Among them were several roboticized depictions of DC and Marvel superheroes…robiticized, and stripped away of significant amounts of flesh, and looking rather down. There was also a very creepy but amusing rendering of ET holding a chloroformed cloth in one hand to make for a rather more sinister vision of the childhood movie icon.
To get a handle on who draws what, start perusing the images here
Art Whino
York Comic Con brings something a little different every year. If they keep delivering the range of goods and continue to improve their organization, we can look forward to many more years of good times!