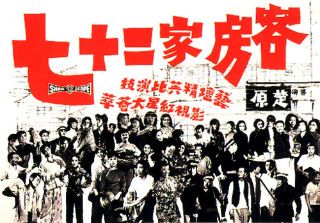 Director
: Chor Yuen
Stars
:
Yueh Hua, Tin Ching, Ching Li, Hu Chin, Lydia Shum Din-Ha, Hoh Sau-San, Lau Yat-Fan, Guk Fung, Cheng Hong-Yip, Lee Sau-Kei, Cheng Miu, Leung Tin, Law Lan, Nam Hung, Danny Lee Sau-Yin, Ouyang Shafei, Lau Dan, Chan Mei-Hua, Wong Ching-Ho, Karen Yip Leng-Chi, Si Si, Wong Hon, Lau Ng-Ke, Lee Ho, Wong Kwong-Yue, Do Ping, Adam Cheng Siu-Chow, Yeung Chak-Lam, Ricky Hui Koon-Ying, Chan Goon Tai
Genre
: comedy
When I thought about the films that I wanted to shine the spotlight on to celebrate chinese lunar new year, I didn't think too long about throwing in
The House of 72 Tenants
to the
Unseen films
menu! I would never call this a festive movie by any stretch of the imagination but I think this chinese centric comedy piece joined with an enormous cast of up and coming HK stars with an underlying message of unity is celebratory enough!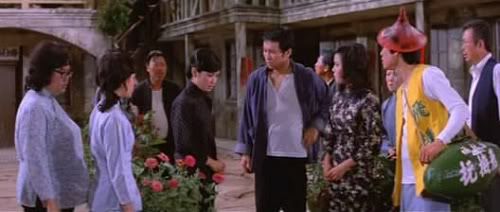 This movie chronicles the day in the life of the struggle of 72 tenants living in a run down tenement home under the evil supervision of a slum-lord landlady played by the character of Pat Koo & her husband Ah-Bing. These slum-parents have an adopted child now 19 years old - Ah Heung (Ching Li) that they verbally & mentally abuse and deprive of basic necessities...like food. Everyday chores like fetching a bucket of running water from one pipe shared by the tenement home proves to be a project when Pat Koo flexes her selfish weight just in spite. Her tenants come from all different backgrounds which includes a laundry lady from Shanghai (Lydia shum), a Dr. from Shantung, an Olive Peddler, a shoe cobbler-Fat Chai (Yueh Hua), an unemployed college graduate with a wife working as a prostitute to make ends meet, seamstresses, and a cigarette vendor just to name a few characters.
The landlady is a nasty ass, foul mouthed, condescending piece of work that tries to intimidate the house of 72 tenants by turning off the electricity, restricting water supply, inciting and setting up her tenants as thieves, & even kicking out a grand pa when the rent payment is late. Her husband acts as an accomplice. The comedy of this movie begins when all the residents ban together and play off one another when Pat Koo flexes her muscle! Fat Chai - the shoe cobbler takes the role as the ring leader for the tenants as his mojo, his wit, & his righteousness would be a shoe in (intentional pun) to take the bull by the horns! The scary thing is that the worst of the harassing done by the slum-lord is directed at her daughter, Ah Heung. What kind of parent would sell their daughter to a travel company to work as a "tour guide" aka prostitution?! What kind of stepfather would make sexual advances towards their own stepdaughter?! Oops, sorry Woody Allen, I wasn't trying to catch you crossing the Delancey!
A corrupt policeman named 3-6-9 and a crooked fire department will show their true colors in a cash rules everything around me mentality in hong kong. Jabs at society would come in the form of comedy delivered with the harsh and witty linguistics of cantonese. This film would prove to be a nice refresher course for me in cursing in canto-slang! In the end, the cohesiveness from all the tenants in this slum hole would morph into a jury of killer bee-hives for the wicked witch from the east to contend with!
For the Stephen Chow--Kung Fu Hustle fans, after watching the House of 72 Tenants, you will see where the inspiration from Pig Sty Alley would come from!
As I stated earlier, this is a chinese centric type of movie and some of the dialogue might get lost in translation when only reading from the subtitles. The comedy comes mostly from conversation relying less on body language. However, I think with an open mind and some creative thinking along with some translations from a native speaking cantonese friend, you might be able to fill in some of the holes with spackle! All in all, I believe this film is worth seeking out and spending the time to unwind with! It tells a tale of unity and friendship under the grip of hard times.
I have a challenge for all you Hong Kong film fiends!! It's easy to spot Lydia Shum, Yuen Hua, & even the cameo appearance of
Chan Goon Tai/Chen Kuan Tai
in the film, but can you find
Adam Cheng
,
Ricky Hui
, &
Danny Lee
, & director-
Chor Yuen
??
Peace, prosperity, & much health!