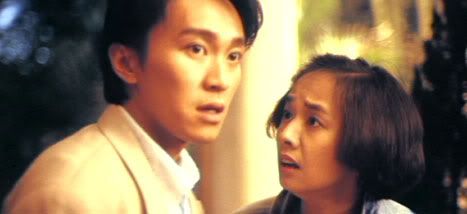 Director
:
Danny Lee
Stars
:
Stephen Chow, Yuen Wah, Teresa Mo, Leung Ka Yan
Fight choreographer
:
Corey Yuen Kwai, Yuen Wah
Genre: action comedy
It would not be quite right to celebrate the
Year of the Dragon
without soaking in a Stephen Chow film in my opinion! His silly, green, & self depracating-good old country boy demeanor almost always lends to a character with high morals, filial piety, and righteousness! His homages to Bruce Lee, kung fu, & chinese culture are always apparent in his films.
Legend of the Dragon
is one of Chow's earlier films that got me hooked into his world of kung fu and over the top, cornball comedy! This time, his bumbling love for a woman, kung fu, & shooting pool would dominate the scene!
Chow Siu Lung (Stephen Chow) and Mo (Teresa Mo) would grow up together practicing the kung fu art of Wing Chun from Lung's father -- Master Chow Fei Hung (Yuen Wah) in Tai-O, a remote fishing village on LanTau Island about 25 miles away from Hong Kong Island. Master Chow would own a substantial part of land in Tai-O. Lung & Mo would no nothing else but the love of practicing wing chun. Their ways of showing affection towards one another was punching, kicking, & fighting! Lung's other secret love was playing billiards.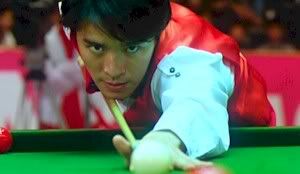 Yan (Leung Ka Yan), the kung fu brother of Master Chow from big city pimping - Hong Kong comes to visit the countryside. The traditional, hard nosed Master Chow has a request for Yan to bring his son back with him to live in HK so he can do bigger & better things! Here begins a tale of where a naive rural side peasant boy would meet the hustle and bustle of city life! Yan finds himself trying to extort money from businesses going door to door but soon discovers that his nephew, ah lung would have extraordinary talent in playing billiards! Lung would be an accessory to gambling against his knowledge, a successful wager at that...until he plays for big stakes against the snooker champion, Jimmy White!! Nobody told Ah Lung that he was gambling against the deed of his father's Tai O property!! Ah Lung & Master Chow would have to come up with a plan to win back their land! A tell tale quote from the movie reveals some patriotic feelings at the time of filming.
"

The prosperity of Hong Kong after 1997 relies on you.

"
The fighting in the film when they did square off, was fast, furious, & comedic!! Corey Yuen Kwai & Yuen Wah, both members of the famous "7 Little Fortunes" Peking Opera crew which includes Sammo, Jackie Chan, & Yuen Biao were the fight & action choreographers so you know the bar would be set pretty high! Leung Ka Yan who plays the crazy uncle in the film was a Shaw Brother studio veteran and a very capable martial art badass on the screen as well. Stephen Chow showed off his multi-talented TVB self as he layed down the signature for what he would be known for in the near future -- kung fu blended with benny hill style comedy!
Some fun scenes in the movie included::
*
Ah lung's encounter with Amy Yip
*
Family dinner scene
*
Father vs Son (Yuen Wah vs Stephen Chow) to test out if the son was ready to handle himself in HK!
*
The fight scene with Ah Lung vs the lead henchmen with the gun!
*
Awesome display of billiards from Jimmy White & Stephen Chow?
*
Father & son demonstrating kung fu on the streets of tsim tsa chui for money.
*
homage to
bruce lee
at the end!
Legend of the Dragon
is definitely worth some play time especially if you are a fan of Stephen Chow! The movie contains a whole host of lighthearted-disposable fun and will be sure to drop that sky high blood pressure of yours! Be sure to stick around for the conclusion of the film as
Stephen Chow, Yuen Wah, Leung Ka Yan, & Teresa Mo
wishes the viewers a happy lunar new year! And don't forget to watch those outtakes!
Gung Hei Fat Choy
from Unseen Films!