Director:
Eric Tsang
Producer:
Eric Tsang/Shaw Brothers Studio
Stars:
Eric Tsang, Tony Leung Ka Fai, Sandra Ng, Aarif Lee, Stanley Fung, Fala Chen, Mag Lam, Anita Yuen, & more!!
Genre: Comedy-lunar new year
Watching
I Love Hong Kong
the 2nd time around brought back some great memories! My first go around with this film was last year in February while on vacation in Hong Kong during chinese new year. This film was one of a few that was slated specifically to help RING in the new year at the theater box offices. If I can remember correctly, I watched this film at the
Grand Cinema
in the swanky
Elements
shopping mall in Kowloon! The Grand Cinema housed 12 screens with very comfortable seats & a monster sound system! For all that don't know, when you buy movie tickets in HK, you have to pick a specific seat in the theater prior to purchase. It sounded very formal at first but it does create order & an advanced shot to choose the best seats to your liking without last second bum rushes.
Lunar New Year films usually boasts an all star cast and this movie was no different. Led by the very talented, diminutive, & lovable
Eric Tsang
who acted in, directed, & produced I Love HK!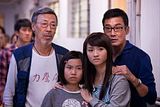 The focal point of the film centered around the close knit relationships that were developed in the past as well as ongoing in the present tense between tenants of a typical low income housing complex in hong kong. Financial hardships and fate would bring some of these friends & families back together again to live in this tight community! Ng Shun (
Tony Leung Ka Fei
), his wife (
Sandra Ng
), and their two kids played by
Aarif Lee
, &
Mag Lam
will move back into Ng Shun's father's apartment where he grew up unbeknownst to the grandfather until the surprise visit. Ng Shun & his wife were doing quite well on their own until their Toy manufacturing company filed for bankruptcy. A reality check for the Ng family would ensue when they discover that the living style & comforts of this housing complex is not quite as endearing to what they were used to. One by one, old childhood friends from the past including 'water dragon' (Eric Tsang) & Ng Shun's 1st girlfriend (Anita Yuen) would resurface back into their lives making for a sticky, uncomfortable, but hilarious situations! The character that stole the show with her performance in my opinion was Ng Shun's wife played by Sandra Ng. She had the hardest adjustments to make dealing with her new employment, the low income housing, husband's ex-girlfriend, & fitting in socially amongst the working class! The 2nd major character that peeks its 'Chiao Chow' head back into the Ng family was childhood friend 'water dragon' who has become a successful real estate/renovations mogul in the United States. Misunderstandings, flashbacks, and a before & after look of twin sisters will definitely be in order!
No doubt,
I Love Hong Kong
is filled with off the wall silly skits that manages to play homage to Hong Kong lifestyle and/or poke fun at it. Mentions of the iconic fast food eats like "Cafe de Coral" seen as Cafe de Oral in the movie, as well as some rumblings from the high end gourmet supermarket, "C!tysuper" seen as CCsuper in the movie is either adored or hated by the locals depending on their financial situation, I would guess. The evil in the story will reap its ugly head when the Tung Wah housing project intends to wipe out the mom & pop shops located in their complex in favor of opening up international chain stores.
The dialogue in the film is full of wit and play on words--all the way down to the Ng families first names such as Ng Shun (can't trust), Ng Tung (can't connect), Ng Ming (don't understand), & Ng Chi (don't know). Some funny scenes in the movie include Sandra Ng trying to imitate being a working class country mom trying to get the deals at the grocery stand and the slow motion gangster leans in the lobby. I also can't leave out the beautiful twins!?
In the end,
I Love Hong Kong
took us onto a family journey of hardships & bad luck that turned into good fortune & prosperity with a little patience, trust, humor, & unity!
This film is definitely worth your time! You will get a insightful glimpse of the day in the life of a Hongkie!