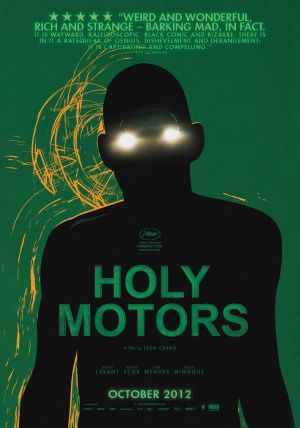 I had planned on writing about both the film Holy Motors itself,and its screening at The New York FIlm Festival (which treated attendees to an appearance by actress Kylie Minogue and Q & A with its director Leos Carax), which has only just wrapped up. However, the piece has rambled on enough, and in fact I have only scratched the surface. Transcending the question of whether I liked or disliked the film, I have found myself in awe of it. I will write about the Q & A with Carax in the near future. In the meantime here is a bit of a look at the much talked about film. A week long engagement at Lincoln Center's Walter Reade Theater begins today, October 17, and Carax will attend the first 6:45 and 9:30 screenings.
Leos Carax's latest film gives rise to a question that has not been on my mind for quite some time: is it possible for a so-called 'art film,' which challenges conventions and gives our interpretation skills a workout, to at the same time be wildly entertaining? By the time it concludes Holy Motors answers with boisterous cry of '
Yes!'
However deeply one decides to delve into the meaning of Carax's often times mystifying film, it will still be a bells and whistles variety show that spans a wide spectrum of moods, visual feats, and unexpected bouts of humor. There is even a musical intermission.
The wildly varied scenes unfold around one Mr.Oscar, a wearied shapeshifting individual who is shuttled around Paris by limousine to a number of "appointments" (by actress Edith Scob, whose straightlaced chauffeur is a perfect counterbalance to Denis Lavant's animated performance as Oscar. These appointments are dizzyingly diverse in their nature, the only constant being the vivid cinematography and Carax's soaring, ever playful imagination.
The narrative structure of Holy Motors makes for an interesting exercise in film literacy. After what some will regard as a puzzling jostling between appointments in the first half of the film, a conversation occurs that establishes, crystal clear, the meaning of these scenes and the main character's (plus, presumably,Carax's own) point of view. It may seem like a concession to viewers whose diets consist of more conventional narratives, but it also shifts our way of perceiving said scenes, both backward and forward. Early signs of Oscar's position as a fixture of the realm of cinema (the light-adorned mirror he changes his appearance in front of, his name), which may have been missed for taking in the dazzling set pieces, become apparent. And as they occur throughout the movie's second half, our thoughts are freed from untangling meaning to processing, truly feeling the emotions expressed in each scene.
Throughout, Carax indulges an impish sense of humor with unpredictable and delightful results . Sometimes it is by way of setting up an amusing visual caper. At others, it is a sudden left turn taken in the midst of a dramatic scene, thus changing up the mood completely. Just as we are lulled into the logic of one of Oscar's appointments, the rules are changed, we have been taken for a ride, but can't help but grin in appreciation of Carax's craft.
If it seems I'm being overly vague about these appointments, It's because they will be best viewed as surprise presents, to be unwrapped with the enjoyment that comes from unspoiled anticipation. Every single one may not resonate with the same level of wonder and excitement. But after taking them in all together, the collective experience proves to have been both thrilling and exhausting.
I will tell you about one of them, though. It involves Merde, who many of you likely recognize as the gleefully nihilistic neanderthal-like sewer dweller that appears in Carax's segment of the Japan-centric triptych Tokyo. Carax may chalk this up merely to his enjoyment of using the character, but I feel it is an instance of his double edged mischief and vision. Seeing Oscar change into Merde, his character enters a realm somewhere beyond the constructed reality of Holy Motors and our own.
I hope, if one thing is evident, it is the abundance of ideas that Holy Motors has left me thinking about. I could go on, but you get the point. I will, however, mention what I think is the film's most impressive feat. With a fluidity that seems effortless, it draws us into the short and seemingly disconnected vignettes to the point of high emotional investment, not once but several times, even after bringing us out of them and breaking the spell. If you are thinking this sounds akin to the experience of going to the cinema itself, you have a sense of the thematic game that Carax is playing while putting on his fantastic show.
It is a spectacle rarely in this day and age, which is reason enough to step up and buy a ticket.
Me on twitter = @Mondocurry