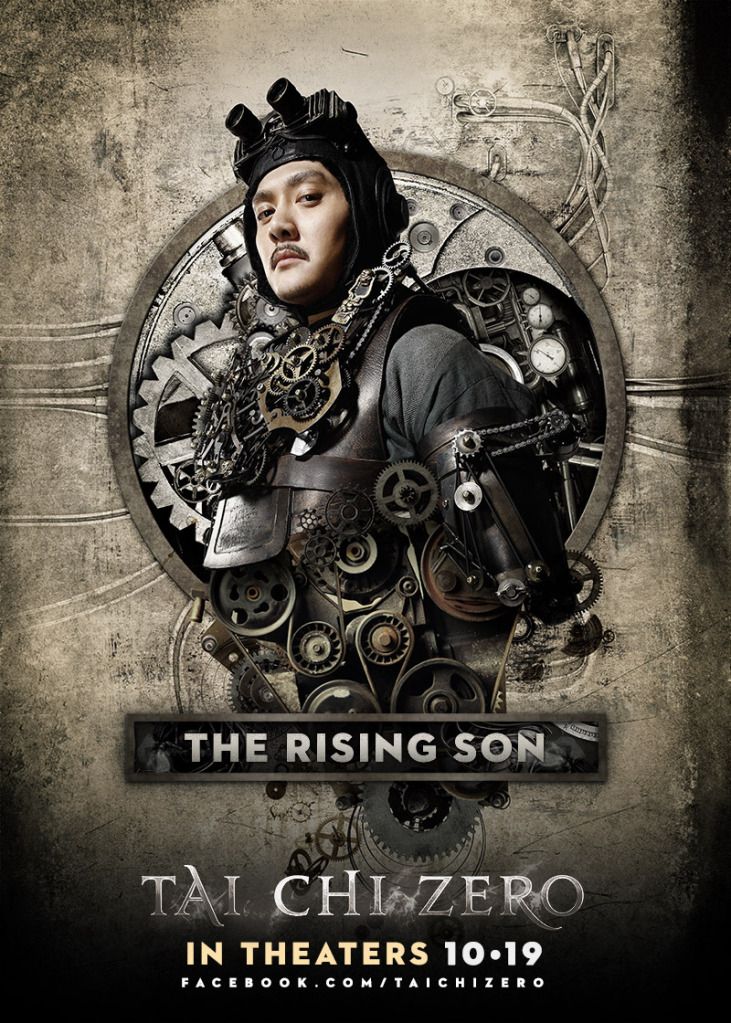 The New York Asian Film Festival crew always throws quite the party. So it was a pleasant surprise to see them away from their own and joining in with the massive extravaganza event that is New York Comic Con. They came with a sneak peak at the film Tai Chi Zero, soon to be released in US theaters by Variance Films and Well Go USA.
When I arrived in the cramped quarters where Subway Cinema set up camp, a costume, ahem...cosplay contest was underway. The winner received a bundle of modern classic Hong Kong films on dvd and blu ray. And as always, knowledge of Asian cinema trivia is rewarded as well, so a few attendees that could answer questions about actors and directors were also recipients of prizes.
It was then time for the movie, Tai Chi Zero, a unique blender whirl of historic martial arts adventure, steampunk motif, and self aware humor involving with loads of references to video game culture very reminiscent of Scott Pilgrim.
Things begin on the battlefield with the hero, Lu Chan, getting blasted in the temple right where a dark horn-like protrusion serves as distinguishing mark. We are then taken back in time to learn more about this aberration: while it unleashes great fighting prowess when agitated in David Banner/Hulk fashion, it also appears to have somewhat impacted his mental capacities and life span, as he goes about seeking to master the fighting style of the renowned but secluded Chen Village.
As Lu Chan progresses on his lopsided path toward acceptance into the village, the gaskets of a steampunk vision come roaring into gear as we come upon the workings of scientist Fang Zi-jing. Fans of the genre will be delighted to varying degrees by the design of sputtering streetcars, a developing rail system, and an elaborate structure whose inner workings becomes the setting of heated conflict. There are also shades of Tesla lore when Zi-jing attempts a public exhibition of his experiments with electricity, which do not go quite as planned. Rarely is this aesthetic found within the realm of a story set in traditional China. Detective Dee dipped into this territory with its intricate designs, but did not embrace the theme to this extent. Yet unlike Dee, Tai Chi Zero has its tongue planted firmly in cheek, looking to evoke laughs at every turn.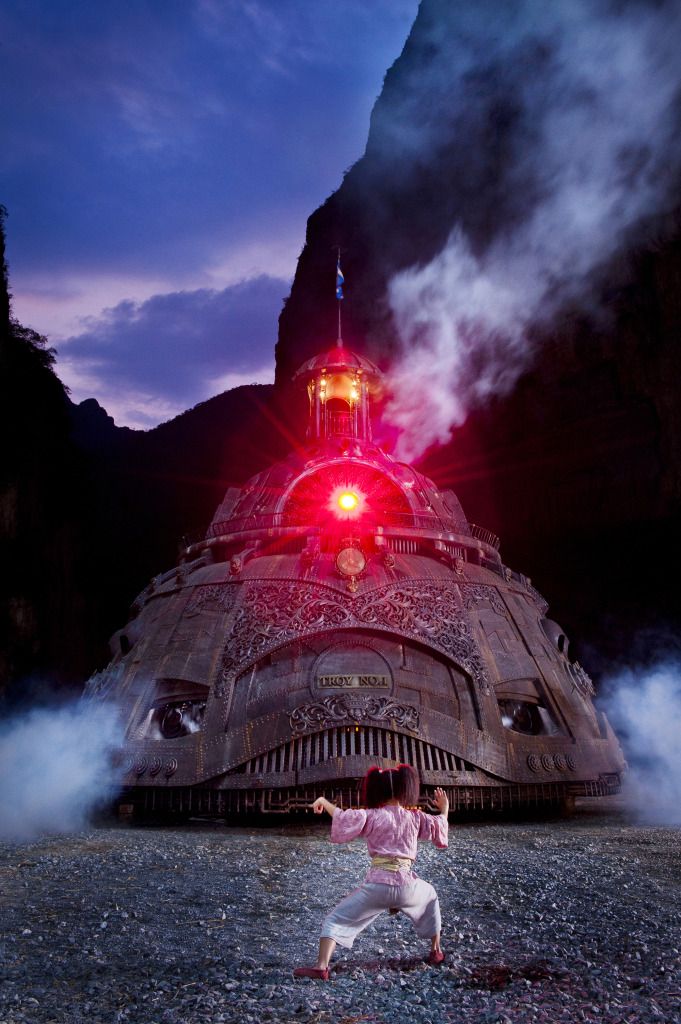 This begins with the cartoonish text that leaps out of the screen to introduce the beloved actors and actresses that appear along with some of the film work we may know them from (this job is usually left up to Mr. C when accompanying those less fluent in Chinese cinema such as myself to the movies) with a showman's flair for promoting. It continues with more visual gags referencing the video game culture with shots of energy bars and finishing maneuver-like sequences. There is no small amount of slow motion, which produced many enthusiastic 'oh's!' from the audience at this NY Comic Con screening.
Despite the silliness, which extends to bringing an arsenal of foods into part of the main battle, there are interesting themes at work. We have an uneasy relationship between East and West, which threatens to get worse in the already promised to be on its way sequel. And while this may seem expected, there is also a cynical view put forth toward those communities that try to maintain an isolated existence and cling to close-minded customs with an unwillingness to bend, even when the results are barbaric.
As for the modern effects and joking tone, how it goes down with different audiences may very well mark the dividing line between different cults of geekdom and age groups. It's easy to be enthusiastic about flashy video game like effect in a movie like Scott Pilgrim, which is about punk rock bands and other modern scenes. In ancient China, the connection may be a bit too jarring, especially for those hardcore enthusiasts of traditional Chinese action films. But what of those who have come across the genre by way of video games? For them, a more likely to be younger crowd, it might be the perfect fit. If this breakdown bears any validity, it would explain why I had my arms folded with a bit of weariness while the mostly younger crowd shifted back and forth between hushed attentiveness (and that, for a rambunctious, reference making NY Comic Con crowd is a feat in itself) and wild cheering. I'll just speak to the use slow motion by adding after the sheer thrill of seeing martial arts adventure films being taken to new extremes of frantic, near impossible speeds in The Blade, it's a bit difficult to get excited about things being slowed down.
I always feel it is good to avoid being a groaning traditionalist and keep up with what the kids are down with, so on that note I'll let you know that Tai Chi Zero is in theaters now for a limited run of screenings and it's definitely one for the big screen.
Me on twitter = @mondocurry