The Venture Bros. is hands down my favorite animated television show ever. if i stop to think about it, it could be my favorite animated anything. it could also be my favorite television show, animated or not (though some stiff competition in recent years has put that into question). OK, just maybe The Venture Bros. is in fact my favorite ongoing anything. I know at least one point in time when I bestowed it with that distinction.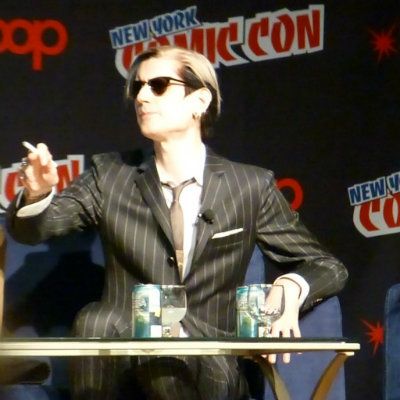 My love and admiration for this mainstay of the Cartoon Network's Adult Swim block stems from its sharp retro style, often hilarious gallows humor, witty barbed exchanges between characters, and a foot planted firmly in the culture of geekdom and otherwise outsider culture throughout (don't be surprised to find obscure Marvel super villain references within a few moments of namedropping Lydia Lunch, Jim "Foetus," and the New York City '80s No Wave scene).
Speaking of Foetus, he is the reason I got into the show as early as I did. I'm sure I would've gotten there eventually. But it's funny to think that initially it had nothing to do with animation, movies, the visual medium at all. It was knowledge that the show's opening credit theme and background music was to be done by Jim Thirwell, man behind long running industrial music persona, Foetus, a small offering of obscure but impeccably moody soundtrack scores, and more composition-based projects Steroid Maximus and Manorexia (themselves filled with staunch and suspenseful soundtrack-esque pieces). After watching a few episodes of the first season, it was apparent that Thirwell's tendencies to give nods to Italian soundtracks and space age music of years gone by would be a perfect match for a warped take on very flawed '70s era adventurer hero types. Johnny Quest was the primary reference point, but weighed down with psychoses, neuroses, and a very stunted ambition.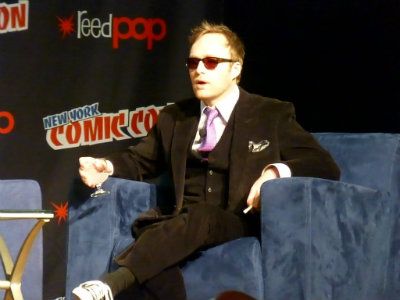 This teaming of the show's two-man creator-writer-design team Jackson Publick and Doc Hammer (whose back and forth repartee surely informs the many quarrelsome duos that populate the show) with Jim Thirwell on the background sounds have remained a constant throughout the series' slowly but carefully assembled four seasons. Yet, so much about it has evolved. The somewhat one-note (even if hysterically funny) riff on super scientist boy adventurers - plural to include both the adolescent namesake brothers and their former adventurer now (struggling) super scientist father - living a less than glamorous and oft failure-tinged life has developed in exciting and unexpected ways.
Ongoing jokes, like the boys' homeschooling via computerized beds that load them subconsciously with information as they sleep, take on real life-like ramifications. In later seasons, we witness them struggle to relate to peers and love interests as a result of their sheltered upbringing. Characters and their relations to one another have also become that much more fleshed out. Brock, at first a punchline embodiment of invincible killing machine aggression and unsatiated sexual bravado, has come to face a crisis of purpose. This puts him in the predicament of choosing between staying to look after the boys, who have come to depend on him and look up to him as a role model, and seeking a more fulfilling path.
Then there are the supporting characters. Orpheus, the melodramatic mystic based loosely on the Dr. Strange archetype must come to grips with the fact his goth daughter Trianna is outgrowing her father's sheltering grasp and leaning toward getting to know her estranged mother and her beau -- a younger necromancer whose flair brings Orpheus' inferiority complex to the forefront. I cannot leave out Billy and Pete White, my favorite largely ineffectual supporting characters who were nearly written off the show after the first season. The hydrocephalic former quiz boy master surgeon and the former college radio dj internet expert albino, respectively, have developed a storied history and faced tests of their loyalty to one another. It reveals an interesting chemistry of resentment and committed attachment between the two, who'd previously appeared primarily for comic relief.
With all this to say, I wonder how I've managed to avoid writing about the Ventures before?? With some very long stretches between seasons (mind you, it is a show that has been on a limited budget and for much of its early years had an uncertain future), last year's NYCC was the first of their appearances I'd seen since being in full swing here at Unseen. And that was a bit of a nonevent. They'd just cemented their place as a reliable big draw at the event, packing in the IGN Theater, but there was really not much to promote. Their achievements thus far were numerous. Most recent highlights included completion of season 4, which was long enough to be split in half. And of course, its hour long finale, which wrapped up several storylines, leaving the future wide open to possibilities.
This year's IGN Theater presentation had a renewed sense of purpose: promoting the upcoming Halloween special --- which, it is interesting to note, was not designed specifically for Halloween. Rather, it's a spooky episode from the upcoming season, which Jackson and Doc decided to drop on us in advance of the highly anticipated full season 5, which will be brought to us in the more distant future (some time in early 2013 was the projected timing for its kick off). Lucky fans in attendance would get a glimpse at both the special and the fifth season.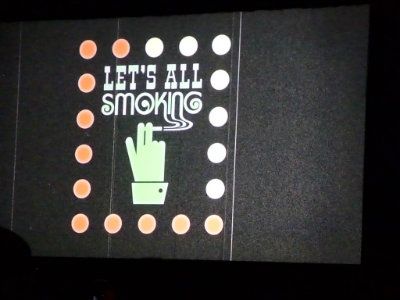 This year's presentation came with no lack of panache. To the right of the podium were some talk show style couches. With no moderator necessary, the suave princes of Venture would play hosts to the hit '70's talk show they'd just invented "Let's Smoking." An introduction showing off Doc Hammer's editing techniques promised guests Michael Sinterniklaas (voice of Dean Venture), Paul Boocock (voice of Doctor Venture, Sr.) and rock band Air Supply. One of the three did not show up.
I'll leave it to you to determine which one.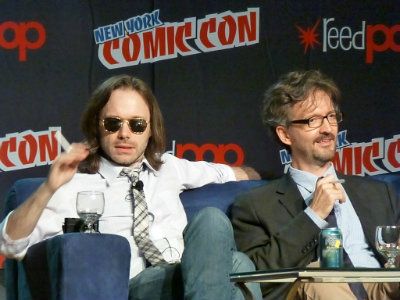 Between puffs on electronic cigarettes and sips of Fresca, (and plenty of references to both in another instance of the pair's always amusing, always 'on' banter) they and their guests segued into clips from the Halloween special and an episode from the new season. This was followed by an action packed "sizzle reel," which amazingly, only comprised of a few of the next season's episodes.
So...what's in store?
Hank, Dean, and new pal/half brother Dermot up to some late night mischief (re: the Halloween special), and noteworthy is the fact that Dean is sporting a fresh new hairstyle; flashbacks to the classic Team Venture on their way to a celebrity wedding; Brainulo; Captain Sunshine; 21 aka Gary, still in peak physical condition and not henching for the Monarch; a triumphant Moppet moment; and a stunning 3-dimensional Sphinx base in flight. Stunning displays like the one shown here make it clear why the show takes so much time to bring to fruition.
I can only imagine that the Ventures + Halloween equals universal appeal for any comics/movie fan. For those not already initiated I suggest you check it out. If that whets your appetite for more, if you have a few months to watch seasons 1 - 4 in preparation for the big fifth season.
A Very Venture Halloween airs at 11:30 this Sunday, October 28, on Adult Swim/Cartoon Network. (See the trailer below)
Me on twitter = @mondocurry