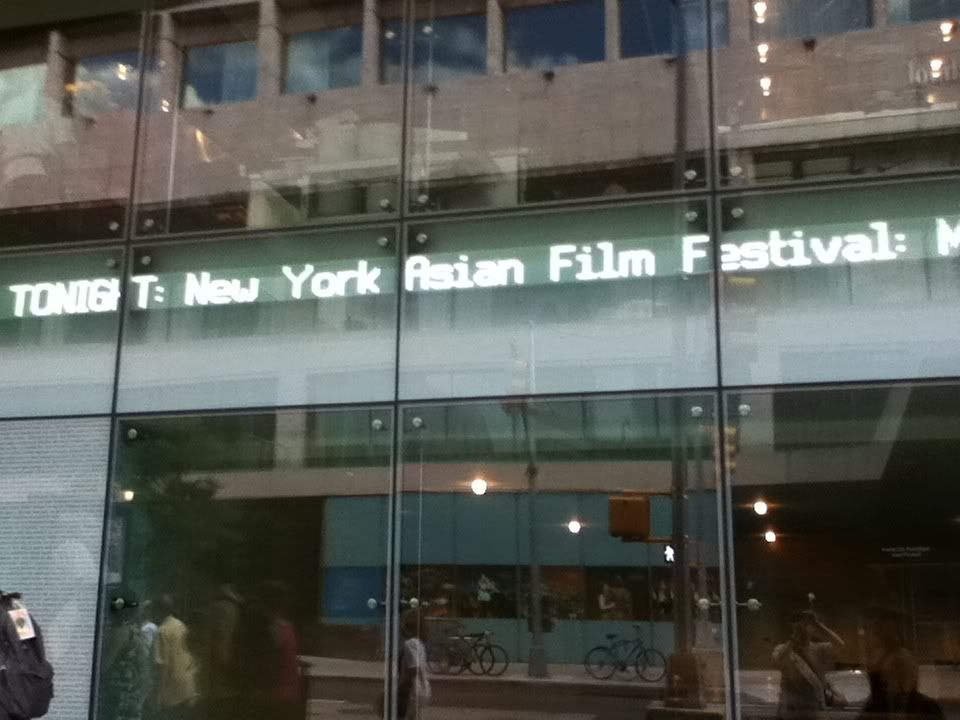 It's that time…time to wrap up thoughts on this year's extra celebratory New York Asian Film Festival. Not only was it an extremely significant year for the festival as it whooped it up for its tenth anniversary, but personally it was a high point because it marks the first year I officially joined up with Team Unseen to offer my feedback on the course of events. It was at last year's NYAFF that I met DB and enjoyed some good times over some unique films…which came after a year or so of exchanges through our respective stream of conscious-esque blogs (that starting right around the conclusion of the NYAFF from the year prior to that). That has all lead to me writing directly for Unseen, a move that's caused me to up my writing game (which I acknowledge is still rather amateurish) and enjoy a sense of community around appreciating films.
Now then, let's stop sniffling and move the hanky to the side. Here are my Top 5 favorite films from the 2011 New York Asian Film Festival…
BUT FIRST, a disclaimer: this is an EXTREMELY SUBJECTIVE list, which only includes films I have seen and by no means reflects the entire array of films at the festival. To those of you who saw it all, I salute you (and I'm also a little afraid of you!) It is a festival that opens the doors to several unique movie watching paths, which fall under the umbrella of 'Asian film.' I definitely wear my preferences on my sleeves and chances are, had I seen more films, they still wouldn't make it as high up on my list as those that piqued my interest enough for me to grab a ticket. For the most part, I saw what I wanted to see except for The Yellow Sea, which may not have changed my list much as it received some rather ambivalent reactions from my film watching compatriots. Last off, I did not include for consideration a few films in the lineup that I had already seen prior to NYAFF and did not watch again during it. Therefore, monstrously good films like 13 ASSASSINS and DETECTIVE DEE AND THE PHANTOM FLAME were not regarded as candidates, which in a way is fortunate because I don't envy the task of determining favorites with those monumental movies in the mix.
Now then, THE LIST
TOP 5 NEW FILMS
1. BEDEVILLED
It seems strange to put a straight up genre film at the top of the list. But, as a suspense fan, this movie had me riveted from beginning to end. The setup depicting a corrupt and chauvinistic contemporary urban Korea invoked its due outrage. The calm before the storm on a remote island masterfully built up an unsettling feeling of dread, making the explosion of rage in the film's final act well earned. It was not without its twists: are we supposed to cheer for abused Bok Nam's path of carnage. The NYC (home to Bernie Goetz NYC as it were) audience certainly felt so. But isn't she trying to kill the main character? And why isn't the similarly tormented main character joining in the transgressions? It all comes together in the end to show a difficult coming to terms and a realistic transformation within a still imperfect world. Bedevilled is head and shoulders above the last female character driven Korean thriller that I remember getting a US theater release, THE HOUSEMAID, so here are strong hopes that this will see the inside of some theaters too.
2. RINGING IN THEIR EARS
Some films are based around an emotionally moving story. Some are cleverly composed. This movie is both, although it is not 1 but rather 4 (and maybe more than that!) engrossing tales that are told. The music by Japanese DIY success story Shinsei Kamattechan is unique and engaging, and even when it is far from universally appealing, is filled with heart. Meanwhile, they have a bona fide hit that I would challenge anyone with a love of rock music to resist nodding his head to. In lesser hands this would be little more than an indie rock infomercial, but Yu Irie made this a very special multi-faceted film that needs to be experienced to be felt, and is deserving of loads of attention.
3. HEAVEN'S STORY
I didn't expect this to go on my favorites list. Was I really going to put it there just because of its novelty of being four and a half hours long? Just because it has the commodity of being seen by a scant few people at its one afternoon screening? No, it is in my top 5 list because it's four and a half hours long and kept my rapt attention and left me feeling like every part of my body was numb except for my heavily throbbing heart. The time spent lingering on the characters and their relationships makes you feel all the more in tune with the weight of the burdens they bare. It is a story about real life, with birth and death examined in full. Yet, it also weaves an incredible tale whose unlikelihood becomes irrelevant in the face of its masterful telling. Watch it all at once, and if you trail off during parts, be sure to listen to the hauntingly beautiful song over the credits, which actually more or less retells the entire story!
4. ABRAXAS
For me, this was all about the noise. I love noise in music. And so does the ne'er do well with a heart of gold retired indie rocker turned monk in the lead role of this subtle drama. His obsession with it comes across as entirely authentic. Noise is a conduit for his rage, despair, confusion, loss, and joy. Its use never comes off in a gimmicky fashion; it is powerful, even as it is wrapped within a narrative that moves to the beat of a quaint small town drama. I found many of the festival's most heartbreaking and joyous moments on film right in this movie.
5. LOVE AND LOATHING AND LULU AND AYANO
This one also surprised me by slipping into my Top 5 list. I think I'm influenced by the fact that a few moments had me genuinely disliking the film when it shifted gears and changed my feelings drastically to ones of deep compassion for the main characters and respect for the film. What a turnaround! It is a thoroughly interesting film to look at, giving occasional glimpses of jagged claustrophobic Tokyo alleys with blistering sounds in the background. Then, there is the world of porn in glorious Technicolor. Scenes sparkle and pop before giving way to the ugly reality behind them. This film deals with some disheartening, yet fascinating, aspects of reality, both within and outside of the realm of the Japanese adult video industry. It is not an easy ride, watching the trials that are in store for the movie's very sympathetic characters. Its surreal path towards tackling some very serious issues planted it firmly within my favorites of the festival.
It may seem glaringly one sided that 4 of the 5 movies are from Japan. It could be that I got swept up in the tide of strong feelings being evoked by seeing a series of great Japanese movies in succession. Or maybe there is just some bona fide exciting activity going in Japanese film, which is being reflected in the movies screened at this year's NYAFF (the current Japan Cuts lineup may offer further evidence of this). 2 years ago, the situation was reversed with my favorite movie hailing from Japan, but four excellent films from Korea making up the rest of my top 5.
I also notice my picks lean towards certain genres. All of them, to a pretty big extent, can be considered dramatic and have aspects of real life societal ills being dealt with. They are dark and yet not one of them is without some uplifting or inspiring aspects. Perhaps I was thinking more along the lines of my recent interests rather than taking a well rounded look at the qualities of this year's films. However, I didn't always lean towards films of that nature. During previous festivals I delighted in finding the most WTF moments and was excited by the most fantastical visions. Maybe these serious dramas were just made better than those other films? At the very least, I think it's worth considering the possibility that an exciting movement of sorts is going on that's putting real life matters in the context of stylized and imaginative onscreen storytelling. I feel it is reflected to some extent in all of the films I put on my list.
On that note, here are a few films that were really close to the top in my heart, but either because of their genre or lack of darkness, were passed over in favor of the five films above. Thank goodness, then, for
HONORABLE MENTIONS:
MILOCRORZE
SELL-OUT
MACHETE MAIDENS
THE UNJUST
These films will likely be acknowledged for something noteworthy in part 2 of my reflection on this year's New York Asian Film Festival.
Follow me on Twitter?
twitter.com/mondocurry