The Indie Memphis Film Festival presented by Duncan Williams, Inc.
announces Oliver Butler and Will Eno's THOM PAIN will make its
World Premiere as the Opening Night Gala selection with the
filmmakers and star Rainn Wilson in attendance
Special MLK50 program, in partnership with the National Civil Rights
Museum, features rare screening of Jules Dassin's UPTIGHT!
Iconoclastic director Abel Ferrara comes to Memphis for a mini-
retrospective of the filmmaker's work
Big Star's Jody Stephens will appear at special outdoor screening of
Benno Nelson's THANK YOU, FRIENDS: BIG STAR'S THIRD LIVE… AND MORE
THOM PAIN, BAD LIEUTENANT, UPTIGHT!
Memphis, TN (

Thursday, August 31, 2017

) – The 2017 Indie Memphis Film Festival presented by Duncan-Williams, Inc., announced that Oliver Butler and Will Eno's THOM PAIN, featuring Rainn Wilson, will make its World Premiere as the Opening Night Gala selection for the 20thAnniversary edition of the popular film festival. Indie Memphis also announced additional programming highlights, including; MLK50, which will commemorate the upcoming 50th anniversary of Dr. Martin Luther King Jr.'s assassination in Memphis; an Abel Ferrara mini-retrospective, with the iconoclastic filmmaker in attendance; and a greatly increased footprint in the city to mark the anniversary year. Marquee sponsors include AutoZone and Malco Theatres.

Indie Memphis Festival Programmer Brandon Harris says, "We are tickled pink to roll out the 20th Indie Memphis Film Festival, by far our biggest and most ambitious yet, by bringing one of the great funny men in American popular culture to Bluff City with a very humorous and oddly moving work of stand-up existentialism that seems in sync with the uncertainty of these hard to fathom times we're living in."

Directed by Oliver Butler and Will Eno in an adaptation of Eno's Pulitzer Prize finalist, THOM PAIN offers Wilson delivering, at Los Angeles's Geffen Playhouse, a spare yet blistering monologue that recalls the ironic ambivalence and gleeful absurdity of Samuel Beckett as Wilson's mysterious postmodern everyman rambles from one rousing observation to another with plenty of non-sequiturs along the way. Wilson, Eno and Butler will be on hand for Indie Memphis's Opening Night Red Carpet Gala and screening, which will take place at the Halloran Theatre (203 S. Main Street).

Indie Memphis will also join in a collaborating partnership with the National Civil Rights Museum for MLK50, a special program of films new and old which will commemorate the upcoming 50th anniversary of Dr. Martin Luther King Jr.'s assassination in Memphis while addressing the various legacies, completed and still unfinished, of the Civil Rights icon's work. The strand will open with a screening of Jules Dassin's UPTIGHT! (1968), a remake of John Ford's Oscar winning THE INFORMER (1935) that includes footage of King's funeral and was suppressed in its time. Set in Cleveland at the height of the clash between liberal integrationists, black nationalists and a largely white Cleveland police force, UPTIGHT! is a stirring fictional tale of the factionalism that divided the movement for Black Lives in the aftermath of King and Malcolm X. Starring Ruby Dee, Max Julian, Roscoe Lee Browne and Raymond St. Jacques, the film is "an under acknowledged landmark," says Harris.

ACORN AND THE FIRESTORM, THE BLOOD IS AT THE DOORSTEP

Contemporary films in the MLK50 section speak to the lasting struggles African-Americans are embroiled in for voting rights, housing, education and the equal protection under the law. These title include; current festival favorites; Sam Pollard and Reuben Atlas's ACORN AND THE FIRESTORM; Erik Jeung's THE BLOOD IS AT THE DOORSTEP; Wade Gardner's MARVIN BOOKER WAS MURDERED; Jairus McClary & Gethin Aldous's THE WORK; and Michael Galinsky's WORKING IN PROTEST. The strand concludes on

Sunday November 5th

with a screening of Sidney Lumet's Oscar nominated documentary, KING: A FILMED RECORD… FROM MONTGOMERY TO MEMPHIS (1970).

KING: A FILMED RECORD… FROM MONTGOMERY TO MEMPHIS

Adding to the anticipation for the 20th Anniversary edition, Indie Memphis welcomes legendary American independent director Abel Ferrara for a 25th anniversary screening of his landmark police thriller BAD LIEUTENANT (1992), starring Harvey Keitel as the title character, a Catholic cop from Queens who finds himself pulled deeper into the quicksand of addiction and debt as he investigates the rape of a nun, and a 20th anniversary screening of THE BLACKOUT (1997), a comedic thriller with Matthew Modine and Dennis Hopper about the grisly consequences of a hard night out in Miami Beach for a matinee idol and the gonzo movie director with whom he's about to make a picture. Ferrara will be joined at each screening by cinematographer Ken Kelsch and editor Anthony Redman.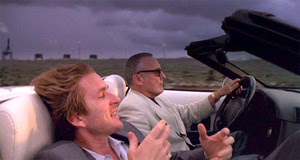 THE BLACKOUT, THANK YOU FRIENDS: BIG STAR'S THIRD LIVE… AND MORE

As part of the anniversary celebration – and for the first time in its history – Indie Memphis will host a block party from

Nov. 3-5

, closing off traffic along Cooper between Union and Monroe in Midtown. Among the highlights will be the Memphis premiere of THANK YOU, FRIENDS: BIG STAR'S THIRD LIVE… AND MORE, directed by Benno Nelson and featuring an all-star cast of musicians such as Robyn Hitchcock and members of R.E.M. and Wilco. The concert film will be shown on a large outdoor screen with Big Star's Jody Stephens in attendance.

Indie Memphis Executive Director Ryan Watt said, "The Indie Memphis team went all out this year to celebrate our 20th anniversary. The addition of the block party and more venues will make this our largest and most eclectic festival to date. I'm most excited to see our audience and filmmakers, local and traveling, come together as a community to discuss what they've seen after each credits roll."

The full festival lineup is expected to include 200+ films, complemented by Indie Memphis's celebrated practice of having live music performed before every screening, as well as several filmmaker Q&As, panel discussions, receptions and after-parties. The complete Festival lineup will be announced on

Tuesday, September 26

, during the annual "Preview Party" at Rec Room (3000 Broad Avenue).

Passes are now on sale and information on the film festival can be found at IndieMemphis.com. Passholders are granted first access to film tickets beginning

September 26th

before they go on-sale to the general public on October 10th.



OPENING NIGHT SELECTION

THOM PAIN World Premiere
Directors: Oliver Butler & Will Eno
Country: USA, Running Time: 75min
Thom Pain (Rainn Wilson) is just like you, except worse. One night, he finds himself on a stage, in the dark, in a theatre. In the audience are people who, just like him, were born and will die. Thom is going to try to make sense of it all. He's going to try to save his life, to save their life, to save your life - in that order. A camera crew captures the night, as various forces align to produce a reckless and accidentally profound event. Produced by the Geffen Playhouse.


MLK 50

ACORN AND THE FIRESTORM
Directors: Samuel D. Pollard and Reuben Atlas
Country: USA, Running Time: 84min
By the people and for the people, community organizing group ACORN became a major player in the 2008 presidential election that resulted in Barack Obama's victory. Conservatives took issue with the group, firing accusations of voter fraud and government waste at the left-leaning organization. After a pair of young conservatives, James O'Keefe and Hannah Giles, posed as a pimp and prostitute to try to expose ACORN's business practices via a hidden camera, a massive political drama ensued, one that the now-omnipresent Breitbart Media is impossible to imagine without. A prescient foreshadowing for much of today's political chaos, Reuben Atlas and Sam Pollard's blow-by-blow account of the ACORN scandal is a real life political thriller that encapsulates the ironies and intractable difficulties of our historical moment.

THE BLOOD IS AT THE DOORSTEP
Director: Erik Jeung
Country: USA, Running Time: 98min
On April 30, 2014, Dontre Hamilton, a black, unarmed man diagnosed with schizophrenia, was shot 14 times and killed by a Milwaukee police officer responding to a non-emergency wellness check in a popular downtown park. His death sparked months of unrest and his family into activism. Filmed over the course of three years in the direct aftermath of Dontre's death, this intimate verite documentary follows his family as they struggle to find answers and challenge a criminal justice system stacked against them. Offering a painfully realistic glimpse inside a movement born out of tragedy, this explosive documentary takes a behind the scenes look at an American legal apparatus that often prevents African-American families from finding remunerative justice.

KING: A FILMED RECORD… FROM MONTGOMERY TO MEMPHIS (1970)
Director: Sidney Lumet
Country: USA, Running Time: 185min
This Academy Award-nominated documentary from legendary director Sidney Lumet presents, in impeccable verite fashion, key events in the life of Martin Luther King Jr at the height of his campaign for the rights of African-Americans. Beginning with the 1955 bus boycott in Montgomery, Alabama and proceeding through the final days of King's life as he stood alongside striking garbage workers in Memphis, this production follows King through the perilous demonstrations and candid, private conversations as the struggle for racial equality wore on.

MARVIN BOOKER WAS MURDERED
Director: Wade Gardner
Country: USA, Running Time: 100min
The homeless street preacher Marvin Booker, while being booked into the Denver Detention Center, was beaten to death by five jail guards for simply wanting to retrieve his shoes. The event was caught on tape, and witnessed by more than 20 people. After they beat him, the deputies carried him into an isolation cell then left him laying on the cement floor. They claimed he was still alive after they exited the cell. The city of Denver never indicted, nor reprimanded any of the deputies involved. Because the Booker family never settled with city administrators, the case wound its way to a stunning federal civil trial. Marvin Booker was Murdered reveals how the Booker family, along with their two incredible attorneys, fought to restore Marvin's civil rights and find the truth.

UPTIGHT! (1968)
Director: Jules Dassin
Country: USA, Running Time: 104min
Black militants in Cleveland, after a rash of police misconduct, build up an arsenal of weapons in preparation for a race war, only to be betrayed by one of their own in this remake of John Ford's THE INFORMERS. A late career masterwork for Dassin, one of the great postwar genre director who was formerly blacklisted by the HUAC in the 1950s, it features the work of famed cinematographer Boris Kaufman and Memphis's own Booker T and the MG's. Starring Ruby Dee, Max Julian, Raymond St. Jacques and Roscoe Lee Brown, it is ultimately co-writer Julian Mayfield who steels the show as a black militant, saddled with alcoholism, who turns informant for the police just as tensions between the groups have grown untenable. Suppressed by Paramount, which claims they can no longer find the only existent print, the movie not only boasts remarkable performances and technical credits to go with a narrative that is more timely than ever, the movie contains 35mm footage of Martin Luther King's funeral, seamlessly integrated into its fictional narrative.

THE WORK
Directors: Jairus McCleary and Gethin Aldous
Country: USA, Running Time: 89min
This SXSW prize winner follows three civilians into Folsom prison as they participate in a four-day group retreat with level-four inmates. Over 96 hours, each man in the room takes his turn at delving deep into the sins of the past. This uncompromising process that the incarcerated undertake exceeds the expectations of those from the outside, ripping them out of their comfort zones and forcing them to see themselves and the inmates in new ways. THE WORK offers a powerful and rare look past the cinder block walls, steel doors and the dehumanizing tropes in our culture to reveal a movement of change and redemption that transcends what we think of as rehabilitation.

WORKING IN PROTEST
Directors: Michael Galinsky and Suki Hawley
Country: USA, Running Time: 80min
Political unrest in the America is traced from one side of the political spectrum to the other in this compendium of direct action, shot over the course of nearly two decades, by Indie Memphis veteran Michael Galinsky and Suki Hawley (ALL THE RAGE, BATTLE FOR BROOKLYN). Street marches and public demonstrations, Black Lives Matter and White Supremacists, this film gives us a glimpse at a variety of different groups who have, since the 2000 Republican Convention, taken to the streets to express their grievances with society. The filmmakers catch illuminating altercations between members of opposing factions – young men of Occupy Wall Street vs an old school liberal Democrat, Trump supporters vs detractors gathered for the inauguration – while keeping a vigilant eye on the role of the police in protecting the targets of dissent.


ABEL FERRARA MINI-RETROSPECTIVE

BAD LIEUTENANT (1992)
Director: Abel Ferrara
Country: USA, Running Time: 96min
The follow up to Ferrara's breakthrough crime picture THE KING OF NEW YORK, BAD LIEUTENANT features Harvey Keitel's as the title character, a spiritually burdened and deeply corrupt cop. Saddled with gambling debt and a nasty drug habit and a scarily distant family life, he exploits his authority to sexually harass teenage girls, embezzles money and steals dope. But in Ferrara's masterpiece, even he might find redemption of a kind. While he attempts to catch a pair of thugs who brutally raped a nun, his difficulties approach an ever growing zenith as he bets against his hometown Mets in the National League Championship Series versus the Dodgers and sinks further into debt. As he gets closer to the abyss, Catholic mythology and the hard life of the streets begin to merge as our doomed hero manages to, for once, do the right thing. 25 years old as of this November, Bad Lieutenant is a landmark of a by gone era of American independent cinema.

THE BLACKOUT (1997)
Director: Abel Ferrara
Country: USA, Running Time: 98min
In Ferrara's underrated 1997 film Matthew Modine's Matty, a newly celebrated actor, struggles with substance abuse and retreats to Miami Beach to get himself together. He proposes to his girlfriend, played by the ever saturnine Béatrice Dalle, who reveals that after a recent pregnancy she aborted their child without his permission. Angry, Matty launches into a drug fueled night with his film director friend, Mickey, played by a remarkable and appropriately cast Dennis Hopper. After returning to New York with no recollection of the evening, Matty's attempt to dry out at AA is marred by a sneaking suspicion that he did something terrible in Miami in can no longer remember, something that will haunt him for some time to come. but he's troubled by what he might have done while blacked out.


ABOUT INDIE MEMPHIS
The mission of Indie Memphis, a 501(c)3 non-profit organization, is to create community for independent film and support the development of filmmakers. For additional information about membership, the annual film festival, weekly film series, artist development, and our youth program visit www.indiememphis.com.