Highlights include a trio of films by unsung master Helmut Käutner, plus rarely screened works by Fritz Lang, Robert Siodmak, and others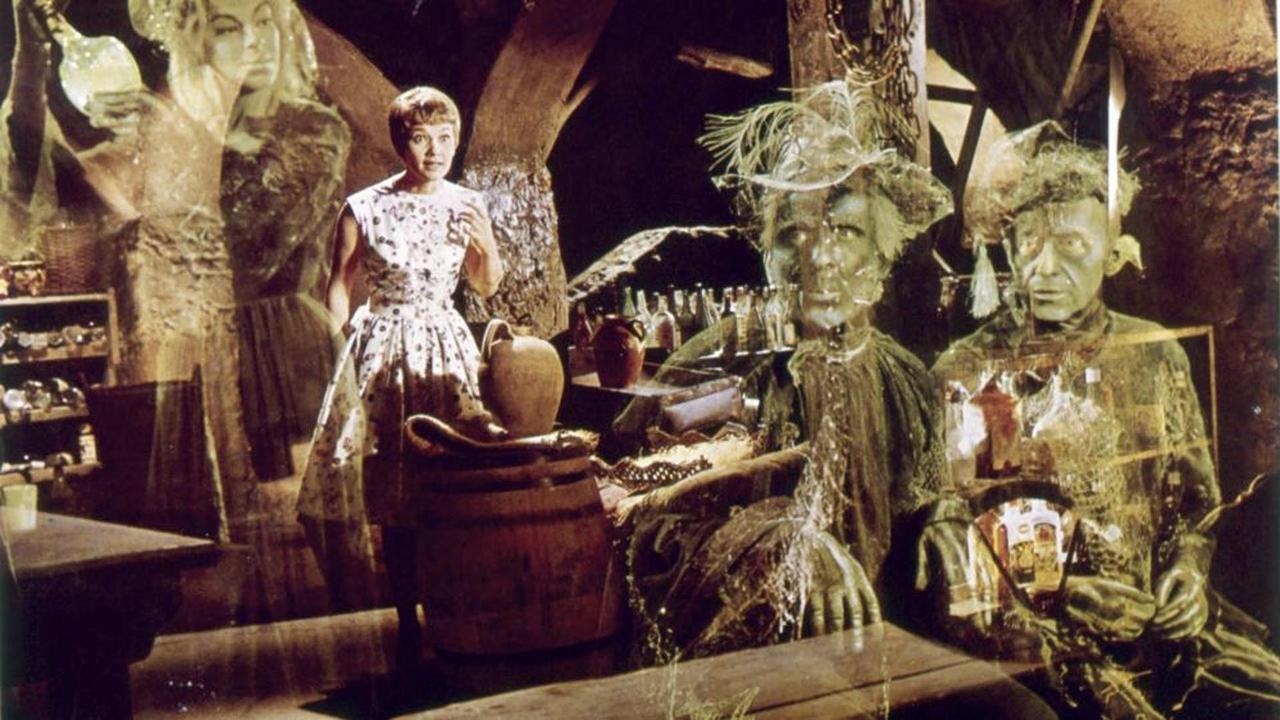 The Haunted Castle
New York, NY (October 19, 2017) – The Film Society of Lincoln Center announces The Lost Years of German Cinema: 1949–1963, a 13-film series of under-appreciated and rediscovered gems from the postwar era, November 15-23.
Our sense of German film history is founded largely upon the prewar masterpieces by Fritz Lang, F. W. Murnau, and G. W. Pabst, and then the iconoclasm of the New German Cinema directors of the 1960s and '70s, such as Rainer Werner Fassbinder, Alexander Kluge, Wim Wenders, Margarethe von Trotta, and Volker Schlöndorff. Less well-known are the films produced after the fall of the Third Reich and before the signing of the Oberhausen Manifesto in 1962, which jump-started a new kind of national cinema. Closer inspection of this in-between period reveals a wealth of eclectic and innovative filmmaking, featuring established masters (like Fritz Lang and Robert Siodmak) returning to Germany to conclude their careers, foreign directors passing through, and under-recognized talents (such as Helmut Käutner) reinventing the genre film. This series, presented in collaboration with the Locarno Film Festival and Goethe-Institut, spotlights this rich, unsung, and fascinating period and its exceptionally diverse body of films, capturing a generation's effort to newly define German identity.
The Lost Years showcases three films by Käutner, responsible for "some of the most beguiling German films since the war" (The New York Times), including the revelatory Black Gravel, misunderstood as anti-Semitic and thus heavily re-edited upon release in 1961, and now screening uncensored in a new digital restoration; Sky Without Stars, a humanist heart-wrencher about lovers on either side of the Berlin Wall; and Redhead, a nuanced portrait of an unfulfilled housewife (German superstar Ruth Leuwerik) who seeks adventure only to find herself entangled in an international conflict.
Other highlights include Konrad Petzold's The Dress, a still-timely adaptation of Hans Christian Andersen's fairy tale about a power-hungry leader, The Emperor's New Clothes; The Devil Strikes at Night, Robert Siodmak's 1958 Best Foreign Language Film Oscar nominee; actor Peter Lorre's sole directorial effort The Lost One, in which he plays a guilt-ridden Nazi-era scientist; and Kurt Hoffmann's gonzo The Haunted Castle, which embodies a horror film, musical, and razor-sharp satire all at once.
Tickets go on sale
November 2
and are $14; $11 for students and seniors (62+); and $9 for Film Society members. See more and save with the 3+ film discount package or All Access Pass. Learn more at
filmlinc.org
.
Organized by Dennis Lim and Dan Sullivan, and co-presented with Goethe-Institut. This program was selected from the retrospective curated by Olaf Möller and Roberto Turigliatto at the 2016 Locarno Film Festival, organized in partnership with the Deutsches Filminstitut, in collaboration with the Cinémathèque suisse and German Films.
FILMS & DESCRIPTIONS
All films screen at the Walter Reade Theater (165 West 65th Street) unless otherwise noted.
Black Gravel / Schwarzer Kies
Helmut Kautner, West Germany, 1961, 117mGerman with English subtitles
The underrecognized Kautner's best-known film is this rugged, paranoiac noir set in the West German village of Sohnen around the site of an American airbase in progress. A trucker, who illegally sells black gravel as a side hustle, unceremoniously reunites with a former lover who has moved to Sohnen with her new, American husband, only for them to accidentally off a younger couple. Naturally, a cover-up ensues. Kautner's portrayal of the ongoing presence of anti-Semitism, even after Germany's denazification, strangely landed it in hot water with the Central Council of Jews in Germany and led to a scene being cut; this new digital restoration, which premiered earlier this year at the Berlinale, returns the censored scene to this seminal yet too-little-seen work of postwar cinema.
New digital restoration!

Friday, November 17, 9:15pm

Sunday, November 19, 6:00pm

Thursday, November 23, 6:00pm
The Devil Strikes at Night / Nachts, wenn der Teufel kam
Robert Siodmak, West Germany, 1957, 35mm, 104mGerman with English subtitles
Siodmak returned to Germany in the mid-1950s following a long, successful run making influential noirs in Hollywood, and
The Devil Strikes at Night
is one of the undeniable standouts of his late period. Based on the true story of serial killer Bruno Ludke (played here by Mario Adorf), the film chronicles Ludke's murderous exploits on the periphery of the Third Reich during World War II and the investigation into his crimes, led by an intrepid detective who encounters no shortage of resistance from the state as he searches for the culprit.
The Devil Strikes at Night
was West Germany's nominee for the 1958 Best Foreign Language Film Oscar, and it is still captivating today as a gripping and visually striking thriller that gives away to a sardonic indictment of political corruption.
35mm print courtesy of the Goethe-Institut.

Wednesday, November 15, 4:30pm

Sunday, November 19, 8:30pm
The Dress / Das Kleid
Konrad Petzold, East Germany, 1961/91, 35mm, 88mGerman with English subtitles
In this politically alert adaptation of Hans Christian Andersen's fairy tale
The Emperor's New Clothes
(formally banned for ten years and shelved for decades until its completion in 1991), travellers Hans and Kumpan come to a city encircled by a gargantuan wall, in which strange things seem going on and a tyrannical, vain emperor demands that they craft a new wardrobe for him that will inspire fear and servility among his subjects. Petzold's parable about the Berlin Wall and the despotism that kept it in place has taken on a new resonance in the USA and around the world in the age of refugees, border concerns and, of course, Trump's wall.
Sunday, November 19, 2:00pm
Tuesday, November 21, 7:00pm
The Eighth Day of the Week / Ósmy dzień tygodnia
Aleksander Ford, Poland/West Germany, 1958, 35mm, 84mPolish with English subtitles
Aleksander Ford finished editing this film in the FRG after it was shelved by censors in the People's Republic of Poland (it wasn't released in Poland until 25 years after its completion). This tale of two lovers concerns a young man (Zbigniew Cybulski) and woman (Sonja Ziemann) who escape the city to spend a few undisturbed hours together in the countryside; the ecstasy of their love gives way to the agony of modern life as everyday circumstances conspire to obstruct their path to romantic bliss. Ziemann and Cybulski are magnetic, lending humor, compassion and dimension to this portrait of human connection amid communist Poland's housing crisis.
Sunday, November 19, 4:00pm
Tuesday, November 21, 9:00pm
The Fair / Kirmes
Wolfgang Staudte, West Germany/France, 1960, 35mm, 102mGerman with English subtitles
In this sober picture of social disorder in Nazi Germany, the body of an Wehrmacht officer who attempted to desert after having been ordered to execute women and children is discovered at the construction site for a fairground carousel in the Eigel fifteen years after his disappearance; panic grips the village's residents, but his parents and his younger sister know all too well what his fate was… Staudte's drama is a damning portrait of the sense of safety in denialism in the FRG, a measured and compelling reckoning with the inhumanity of the Nazi years and the collective refusal to fully come to terms with them after the fall of the Third Reich.
35mm print courtesy of the Goethe-Institut.

Thursday, November 16, 9:00pm

(Introduction by Olaf Möller)

Friday, November 17, 2:30pm
The Glass Tower / Der gläserne Turm
Harald Braun, West Germany, 1957, 35mm, 105mGerman with English subtitles
One of the most significant films of West German cinema in the 1950s,
The Glass Tower
stars Lilli Palmer as a tycoon's wife who, no longer content merely to be one of her husband's many possessions, turns to both adultery and her first love: the theater. A rich melodrama that slowly mutates into something like a courtroom procedural, this film offers an especially bold and critical portrait of Konrad Adenauer's FRG as a locus of cold modernity with a stultifying rigid conception of beauty, harmony and freedom.
The Glass Tower
can be seen as a precursor to the later work of Rainer Werner Fassbinder in its sophisticated use of the tropes of melodrama to undertake incisive social critique.
Wednesday, November 15, 9:00pm

(Introduction by Olaf Möller)

Tuesday, November 21, 4:30pm
The Haunted Castle / Das Spukschloß im Spessart
Kurt Hoffmann, West Germany, 1964, 35mm, 101mGerman with English subtitles
This hilarious satire of the FRG's economic turnaround unexpectedly assumes the form of a kind of horror musical laden with special effects (with a score by the great composer Friedrich Hollaender, his last). Charlotte (Liselotte Pulver) inherits an old castle near Bonn—and a tremendous amount of debt. But, luckily for Charlotte, the castle is haunted by five ghosts who resolve to help dig her out of her financial hole. Their approach proves to be, shall we say, unconventional, and Charlotte comes to wonder whether this spectral assistance might be more trouble than it's worth.
The Haunted Castle
is more than a whacky, entertaining curio; it's also a sneakily political parable about Germany's road to recovery following the fall of the Third Reich.
Saturday, November 18, 8:45pm
The Lost One / Der Verlorene
Peter Lorre, West Germany, 1951, 35mm, 98mGerman with English subtitles
In his sole directorial effort, Peter Lorre (who also cowrote the film) plays a Nazi-era scientist who is forced to murder his fiancee after he discovers that she is surreptitiously selling data from his secret research to the enemies of the Third Reich. Lorre based his character on a real-life German scientist who committed suicide in a displaced persons camp, and his performance reverberates with echoes of his most iconic role, in Fritz Lang's
M
.
The Lost One
is a chilling meditation on the legacy of violence and guilt with which Germany became saddled in the postwar period and a virtuosic achievement by its director/star/co-writer, cementing him as one of Germany's all-time major cinematic figures.
35mm print courtesy of the Goethe-Institut.

Wednesday, November 22, 9:00pm

Thursday, November 23, 1:30pm
Redhead / Die Rote
Helmut Kautner, West Germany/Italy, 1962, 35mm, 94mGerman with English subtitles
One of Kautner's final films before his turn to television is also among his most personal. Ruth Leuwerik stars as Franzizka, a woman who, on the cusp of 40, has grown terribly bored with her husband and their lifestyle; so she flees to Venice, stumbling into an affair with an Englishman. Soon, she discovers that he has a vengeful agenda stemming back to the Third Reich, and she finds her life in a state of upheaval once more. Kautner's desire to tell postwar Germany bitter truths about itself anticipated the New German Cinema, and he said "[Leuwerik] who for many years was the immaculate lady of German society, the tender loving mother, was here a modern, broken figure, a secretary who lived with two men and fell prey to a third in Venice—that was something which people just didn't want to see in her."
35mm print courtesy of Deutsche Kinemathek.

Friday, November 17, 5:00pm

Saturday, November 18, 4:30pm
Roses Bloom on the Moorland / Rosen blühen auf dem Heidegrab
Hans Heinz König, West Germany, 1952, 35mm, 82mGerman with English subtitles
A gothic synthesis of the
heimatfilm
and the horror movie ripe for rediscovery,
Roses Bloom on the Moorland
follows the plight of a young village girl pressured by her family into spurning her childhood love and marrying a wealthy farmer. But our heroine's plight comes to bear an eerie resemblance to a local legend concerning a brutish Swedish soldier's misdeeds during the Thirty Years' War… Featuring gloomy, atmospheric set design by the great German art director Max Mellin, this tale, pervaded by a sense of doom yet speckled with moments of unexpected grace, is an evocative condensation of the young FRG's neuroses and everyday worries.
35mm print courtesy of the Goethe-Institut.

Wednesday, November 15, 2:30pm

Wednesday, November 22, 7:00pm

Thursday, November 23, 8:30pm
Sky Without Stars / Himmel ohne Sterne
Helmut Kautner, West Germany, 1955, 35mm, 108mGerman and Russian with English subtitles
Kautner's signature film is a black-and-white, almost-neorealist story of love obstructed by the border separating the GDR and the FRG. Anna (Eva Kotthaus), an East German factory worker, sneaks over to the West, abducts her own son, and in the process meets and falls in love with a compassionate cop named Carl (Erik Schumann)—thus beginning a slow-burning romance filled with daring, unsanctioned visits to their respective sides of the Iron Curtain. Suffused by a sense of tragic fatalism, this absorbing tale of lovers on the run makes an affecting and persuasive argument about the terrible consequences of erecting walls between people.
35mm print courtesy of the Goethe-Institut.

Friday, November 17, 7:00pm

Wednesday, November 22, 4:30pm

Thursday, November 23, 3:30pm
The Tiger of Eschnapur / Der Tiger von Eschnapur
Fritz Lang, West Germany/France/Italy, 1959, 35mm, 101mGerman with English subtitles
After his long and prolific Hollywood career, Fritz Lang (
Metropolis
) returned to Germany at the behest of producer Artur Brauner and embarked on an ambitious two-film project that would become known as his "Indian Epic." The source material was the novel
The Indian Tomb
by Thea von Harbou (Lang's ex-wife and former collaborator), a book Lang had initially been hired to direct as a silent film in 1921, before being fired and replaced by Joe May. In this, the first of the two films, Lang tells the story of a German architect (Paul Hubschmid) who arrives in India to build a temple for a Maharaja, whereupon he promptly falls in love with the Maharaja's intended bride (Debra Paget), whom he narrowly saves from becoming the titular tiger's latest meal. Impeccably directed on a modest budget, with a thrilling cliffhanger ending, Lang's late-career triumph proves the old adage that the enemy of art is the absence of limitations.
35mm print courtesy of Deutsche Kinemathek.

Saturday, November 18, 6:30pm
White Blood / Weißes Blut
Gottfried Kolditz, East Germany, 1959, 35mm, 88mGerman with English subtitles
A tense combination of military thriller and melodrama, directed by one of the most formally resourceful genre masters at DEFA,
White Blood
is a masterful reckoning with moral unease at the dawn of the nuclear age. A young military officer returns to the GDR after having spent some time in the USA and contracting incurable radiation poisoning. But the sole doctor who can help him is an enemy of his family and a staunch opponent of the atom bomb, and so this matter of life or death goes from being an existential struggle to a philosophical one.
White Blood
is a singularly gripping work and a profound historical snapshot of the international anxiety aroused by nuclear proliferation.
Wednesday, November 15, 7:00pm

(Introduction by Olaf Möller)

Tuesday, November 21, 2:00pm
FILM SOCIETY OF LINCOLN CENTER
The Film Society of Lincoln Center is devoted to supporting the art and elevating the craft of cinema. The only branch of the world-renowned arts complex Lincoln Center to shine a light on the everlasting yet evolving importance of the moving image, this nonprofit organization was founded in 1969 to celebrate American and international film. Via year-round programming and discussions; its annual New York Film Festival; and its publications, including Film Comment, the U.S.'s premier magazine about films and film culture, the Film Society endeavors to make the discussion and appreciation of cinema accessible to a broader audience, as well as to ensure that it will remain an essential art form for years to come.
The Film Society receives generous, year-round support from Shutterstock, the National Endowment for the Arts, and the New York State Council on the Arts with the support of Governor Andrew M. Cuomo and the New York State Legislature. American Airlines is the Official Airline of the Film Society of Lincoln Center. For more information, visit
www.filmlinc.org
and follow @filmlinc on Twitter.