Second annual festival for kids features family-friendly selections from around the world, silent classics, thoughtful documentaries, and more
Plus special animation workshop and work-in-progress screening of footage from upcoming feature Ferdinand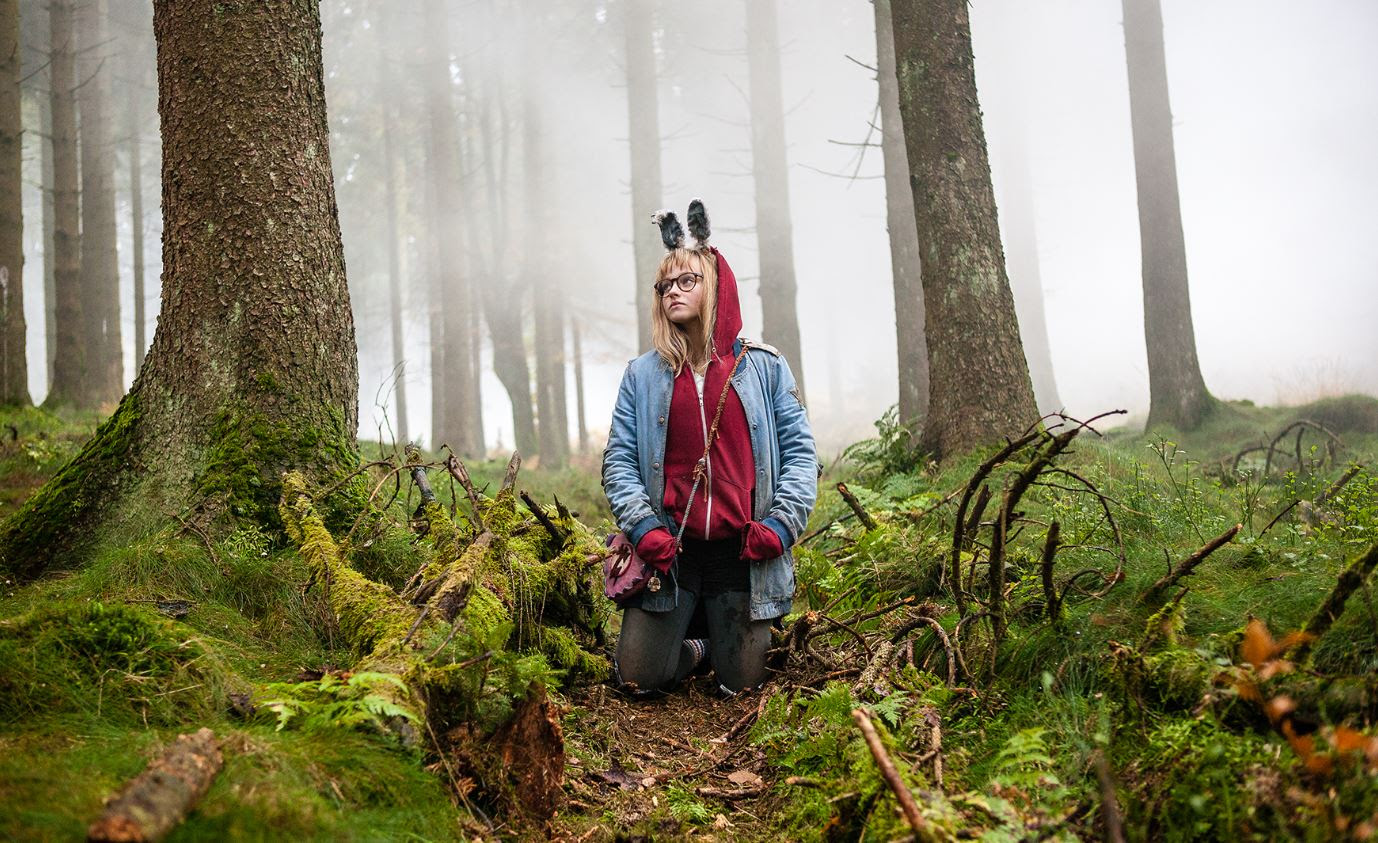 I Kill Giants
New York, NY (October 18, 2017) – The Film Society of Lincoln Center announces the second edition of My First Film Fest, which aims to bring the singular excitement and vibrancy of the festival experience to burgeoning movie lovers, November 10-12.
This year's lineup offers a bounty of selections appropriate for children of all ages—adults included. This weekend-long event brings action, adventure, and creativity to the Upper West Side, featuring under-the-radar titles from around the world, cartoon showcases, cherished anime features, as well as free educational screenings of films that promote cultural awareness and diversity.
Highlights include a work-in-progress presentation of upcoming animated feature Ferdinand, with the director in person and a special hands-on animation workshop; the U.S. Premiere of I Kill Giants, an exhilarating emotional odyssey based on the acclaimed comic-book series by Joe Kelly, with the author in person; the spectacularly gorgeous animated adventure Mune: Guardian of the Moon; a selection of the best short films from this year's New York International Children's Film Festival; a restoration of Charlie Chaplin's personal favorite of his own films, The Gold Rush; dance drama Polina, about a ballerina following her dreams, with filmmakers Valérie Müller & Angelin Preljocaj in person; family favorite Willy Wonka & the Chocolate Factory on 35mm; and more.
Organized by Florence Almozini, Rufus de Rham, and Tyler Wilson.
Tickets go on sale
October 26
. Special family passes and ticket prices will be available! Learn more at
filmlinc.org
.
My First Film Fest 2 is sponsored by Go-Go Squeez and Noosa Finest Yoghurt, which will be sampled during the festival.
Acknowledgments:New York International Children's Film Festival; UniFrance
FILMS & DESCRIPTIONS
The Best of the 2017 New York International Children's Film Festival: Kid Flix 2
TRT: 77m
Explore new worlds without leaving the theater! Kid Flix 2 includes a selection of shorts made up of audience favorites and award winners from the 20th-anniversary edition of New York International Children's Film Festival, the nation's largest film fest for kids and teens.
Ages 8 and up
Saturday, November 11, 2:30pm
Outdoor Cinema
Tatiana Poliektova, Russia/Australia, 2014, 3mThe best cinema of all reflects what is right in front of us, in this homage to all things that capture our eye.
Riceballs
Shingo Usami, Australia, 2015, 10mA father and son work their way past loss to strengthen cultural bonds in the unlikeliest of places: the lunchbox.
Nino & Felix
Marta Palazzo & Lorenzo Latrofa, Italy, 2015, 8mNino and Felix, two boys thrown together by circumstance, must learn to work it out in fantastical fashion to find common ground.
Little Mouse
Ervin B. Nagy, Hungary, 2016, 7mEleven-year-old "Little Mouse" is a naturally gifted swimmer who earned a spot at the Bucharest Youth Championship. Will she have what it takes to out-lap the big kids?
Welcome to My Life
Elizabeth Ito, USA, 2015, 9mThe animated high-school challenges of T-Kesh, your average Monster-American teenager.
Roger
Sonia Cendón, Sara Esteban, Arnau Gòdia, Ingrid Masarnau, & Martí Montañola, Spain, 2016, 7mRoger is used to being the leading man in a stop-motion series. But when his good luck runs out on set, he must learn how to claw his way back…
Einstein-Rosen
Olga Osorio, Spain, 2016, 9mSummer, 1982. Teo claims he has found the fabled Einstein-Rosen Bridge through space and time. His brother Óscar doesn't believe him… at least not for now.
Dogtor
Rhea Dadoo, USA, 2016, 3mIt's about friendship and reflecting on personal journeys. Also, dogs!
Heads Together
Job, Joris, & Marieke, Netherlands, 2016, 21mThree friends must walk a day in each other's shoes… and legs, and torsos.
The Gold Rush
Charlie Chaplin, USA, 1925, 35mm, 95mChaplin's personal favorite among his films is a beautifully constructed comic fable of fate and perseverance, set in the icy wastes of the Alaskan gold fields. In this vast landscape packed with avalanches, wildlife, and prospectors, the incomparable Gentleman Tramp seeks his fortune, but faces more than he bargained for. The movie features some of Chaplin's most famous setpieces, including him elegantly cooking and eating his boot to fend off starvation, and performing a table ballet with two dinner rolls. The Gold Rush seamlessly blends action, slapstick, and sentiment, making it one of the most beloved of the filmmaker's works. Restoration of the original 1925 silent film with a recording of Chaplin's score, reconstructed and conducted by Timothy Brock.Ages 6 and upFriday, November 10, 4:00pmSaturday, November 11, 12:30pm

I Kill Giants
Anders Walter, UK/USA, 2017, 104m
Smart, rebellious, and unafraid to speak her mind, precocious teenager Barbara Thorson (Madison Wolfe) lives in two worlds. There is the turbulent reality of school and home, where she deals with bullying and parents who are out of the picture. And then there is the rich imaginary life she's created, in which she is a fearless hunter of monstrous giants who threaten her town. But as Barbara's fantasies turn increasingly dark, it becomes clear: the real demons are the ones she battles within herself. Based on the acclaimed comic-book series by Joe Kelly, this exhilarating emotional odyssey immerses viewers in the mind of a young woman taking on life's challenges in her own way.
Ages 13 and up

Saturday, November 11, 6:30pm

(Q&A with Joe Kelly)

Miss Kiet's Children
Peter Lataster & Petra Lataster-Czisch, Netherlands, 2016, 115mDutch with English subtitles
Dutch elementary-school teacher Kiet Engels's classroom is unique. Made up entirely of immigrant students, most of them refugees from the Middle East, it includes 9-year-old Haya, who rebels by spurning Dutch in favor of her native Arabic; Leanne, a bright 6-year-old Syrian girl overcoming bullying; and Jorj, a class clown whose antics conceal emotional scars. This empathetic, beautifully observed documentary chronicles the children's stumbles and successes as they deal with both the ordinary challenges of growing up as well as the added pressures of adjusting to a new culture. Guiding them through it all is Miss Kiet, whose loving patience is a testament to the impact a good teacher can make. An Icarus Films release.
New York Premiere
Miss Kiet's Children
opens at Film Forum on

December 13

.
Ages 10 and up
Sunday, November 12, 5:00pm

Mune: Guardian of the Moon
Alexandre Heboyan & Benoît Philippon, France, 2014/2017, 86mEnglish-dubbed version
This rollicking animated adventure conjures a mythic world in which the sun and moon are controlled by ancient caretakers who have regulated their cycle for centuries. When Mune, a timid young forest creature, is appointed the new guardian of the moon, things quickly go haywire, as the sun is stolen and everything goes dark. Can Mune step up and bring light back to the world? A visual spectacular that makes striking use of both 3-D CGI and 2-D hand-drawn animation, this innovative French production brings to life a richly realized universe sure to capture the imagination of young viewers. Featuring the voice talents of Christian Slater, Patton Oswalt, and Ed Helms. A GKIDS release.
Ages 6 and up
Sunday, November 12, 3:00pm

Polina
Valérie Müller & Angelin Preljocaj, France, 2016, 108mFrench and Russian with English subtitles
Bursting with dazzling dance sequences, this arresting tale of self-discovery charts a young woman's journey to find both her place in the world and her own artistic voice. Growing up in Russia, Polina (Anastasia Shevtsova) studies classical ballet with one goal: to make it into the corps of the Bolshoi. But when she at last achieves what was supposed to be her dream, the headstrong Polina chooses instead to travel to France to train in modern dance. It's the beginning of an odyssey that will open up new creative horizons while forcing her to rely only on herself. Juliette Binoche co-stars in this refreshingly real look at what it means to risk everything for a dream. An Oscilloscope Laboratories release.
Ages 13 and up

Friday, November 10, 6:30pm

(Q&A with Valérie Müller & Angelin Preljocaj)

Princess Mononoke
Hayao Miyazaki, Japan, 1997, 134mJapanese with English subtitles
Hayao Miyazaki's breathtaking epic spirits viewers away to a folkloric world of gods, demons, and magic. After he's stricken with a fatal curse, a young prince journeys westward in search of a cure, only to find himself embroiled in an epic struggle between humans and animals—led by Princess Mononoke, aka San, a fierce warrior woman raised by wolves—for control of the ancient Deer God's forest. Overflowing with imagination and visual beauty, this modern-day masterpiece stands as a singular achievement in animation: a morally complex, feminist fable with an impassioned message of ecological stewardship.
Ages 13 and up
Saturday, November 11, 9:15pm

Revolting Rhymes
Jan Lachauer & Jakob Schuh, UK, 2016, 58m
Did you know that Little Red Riding Hood was really a fearless wolf warrior? And that Cinderella's Prince Charming wasn't so charming after all? In this whimsical collection of new short animations based on the book by Roald Dahl, the big bad wolf himself narrates the
real
stories behind fairy-tale favorites, from "Snow White and the Seven Dwarfs" to "Jack and the Beanstalk." Droll, clever, and just a touch twisted, these delightfully irreverent takes on the warm and fuzzy stories we all grew up with offer feisty female protagonists in place of shrinking-violet princesses. A GKIDS release.
Ages 6 and up
Sunday, November 12, 1:30pm

Weirdos
Bruce McDonald, Canada, 2016, 85m
It's the summer of 1976. America is celebrating its bicentennial, AM rock rules the radio, and in Nova Scotia, Canada, closeted teenager Kit (Dylan Authors) is preparing to run away from home. Accompanied by his quasi-girlfriend Alice (Julia Sarah Stone) and guided by the spirit of Andy Warhol, Kit hitchhikes his way along the coast in search of adventure and his estranged, bohemian artist mother (Molly Parker). But a life-changing night and a series of hard-earned realizations soon force him to face what he's trying to outrun. Shot in crisp black and white and set to a lovingly curated vintage soundtrack, this proudly offbeat road movie celebrates the joys of being different. A MUBI release.
Ages 13 and up
Sunday, November 12, 7:15pm

Willy Wonka & the Chocolate Factory
Mel Stuart, USA, 1971, 35mm, 100m
A perennial favorite for children and adults alike, this musical adaptation of Roald Dahl's fanciful novel stars Gene Wilder as the zany, top-hatted recluse Willy Wonka. Against all odds, the indigent Charlie Bucket (Peter Ostrum) finds a winning ticket to tour the candy mogul's factory and potentially earn a lifetime supply of chocolate. Chaperoned by his sickly Grandpa Joe (Jack Albertson), Charlie must compete against four more-privileged children, who, one by one, are forced out of the race, as their candy-related moral failures are put to song by the Oompa Loompas.
Ages 8 and up
Friday, November 10, 9:15pm

Work-in-Progress Screening & Workshop: FERDINAND
Total run time: 70m
This year's My First Film Fest is pleased to feature a work-in-progress presentation of
Ferdinand
, a new heartwarming animated comedy adventure from the creators of
Rio
and
Ice Age
, coming to theaters
December 15
. Following a sneak preview of footage from the upcoming film, director Carlos Saldanha will discuss the animation process and how his team brought Munro Leaf's beloved book to life. After this presentation (approximately 30 minutes), the animators of
Ferdinand
will hold an animation workshop for attendees.
Ferdinand
tells the story of a giant bull with a big heart. After being mistaken for a dangerous beast, he is captured and torn from his home. Determined to return to his family, he rallies a misfit team on the ultimate adventure. Set in Spain, Ferdinand proves you can't judge a bull by its cover. From Blue Sky Studios and Carlos Saldanha, the director of
Rio
and inspired by the beloved book
The Story of Ferdinand
by Munro Leaf and Robert Lawson,
Ferdinand
features an all-star cast that includes John Cena, Kate McKinnon, Gina Rodriguez, Anthony Anderson and many more. A Twentieth Century Fox release.
Saturday, November 11, 4:30pm

**Animation workshop to follow in the Furman Gallery

FILM SOCIETY OF LINCOLN CENTER
The Film Society of Lincoln Center is devoted to supporting the art and elevating the craft of cinema. The only branch of the world-renowned arts complex Lincoln Center to shine a light on the everlasting yet evolving importance of the moving image, this nonprofit organization was founded in 1969 to celebrate American and international film. Via year-round programming and discussions; its annual New York Film Festival; and its publications, including Film Comment, the U.S.'s premier magazine about films and film culture, the Film Society endeavors to make the discussion and appreciation of cinema accessible to a broader audience, as well as to ensure that it will remain an essential art form for years to come.
The Film Society receives generous, year-round support from Shutterstock, the National Endowment for the Arts, and the New York State Council on the Arts with the support of Governor Andrew M. Cuomo and the New York State Legislature. American Airlines is the Official Airline of the Film Society of Lincoln Center.