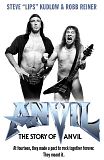 Head bangers, unite! What do the Scorpions, Motorhead, Slayer, Anthrax, Metallica, Bon Jovi, Whitesnake, & many other big haired metal bands have in common with this documentary? They all have toured with
Anvil
, a thrash metal band based out of Toronto, Canada formed by guitarist-frontman, Steve "Lips" Kudlow and drummer, Robb Reiner. They've been playing together since they were 14 years old! Now, they are well into their 50's! Unfortunately, most of you probably have never heard of this band or maybe heard of them at one point or another in the 1980's until they faded away into obscurity soon thereafter. Some people blamed poor management, others pointed fingers to their quirky bondage like outfits with "Lips" holding a dildo as a prop while playing the guitar while some even blamed the isolation factor of living in Canada for the source of the band's failures. One thing is for sure though, it wasn't because of their sound or lack of talent as attested in interviews with Lars Ulrich from Metallica, Slash from Guns N Roses, Scott Ian, & Lemmy from Motorhead. All acknowledge that
Anvil
has influenced many bands with their thrash metal sound and outrageous performances! Fast forward a bit to the documentary,
Anvil: The Story Of Anvil
and 13 studio albums later (at the time of the film), now about to be 15 albums in September of 2012! This film would slowly unravel the story of childhood best friends, Steve Kudlow & Robb Reiner and their passion to keep rocking as ANVIL till infinity! It's a heartfelt rockumentary with feel good family undertones coming light years short of a rags to riches story. The everyday grind of Steve & Robb's blue collar jobs during the day to support their families while still trying to rock out at all other times to appease their dreams is definitely taking a toll. The movie will take you on a road trip to one of Anvils' tours in Europe including a gig in Prague and Germany which will end up giving the viewer a few clues to why Anvil wasn't more successful at the time. This tour will also give you a glimpse of how stingy and sleazy some of these venue managers are. During the filming of the Story of ANVIL, Steve & Robb decided to reach out to Chris Tsangarides who produced Anvil's two most successful albums in the early 1980's, "Metal on Metal" and "Forged in Fire" to see if he might be interested in helping them to reformulate that same magical sound in the studio for their new album, THIS IS THIRTEEN. Disagreements and harsh words between the two good friends of Anvil will make a bumpy ride when recording in the sound booth with their old producer. However, this would eventually create a stronger bond between the two after reconciliation.
You don't have to be a fan of the group to enjoy this film. I think after watching the movie, I'm sure you will agree that yes, the documentary is centered around music but really, it's more about life and relationships. The sincerity and honesty really shined through with the story. The film really created a bright spotlight on the band for being true to who they are musically and more importantly as individuals. The duo really seemed to be humble and down to earth folks. There are also a few scenes in the movie that might draw up some emotional feedback including a checklist of laughter, sympathy, and tears. Last but not least, we should also thank the director, Sasha Gervasi for documenting this story of Anvil. Gervasi has been a die hard follower of Anvil since the beginning. Who else can better understand this tale of perseverance, passion, and struggle other than from a real fan, a roadie!! I think the director captured the real essence of great friends making music because it is part of their DNA instead of for feeding their own egos. Cheers to those who are continuously chasing down their dreams despite the obstacles!
Thanks to the added spotlight of the film, ANVIL is getting noticed again! We went to a screening of
Anvil: The Story of Anvil
to a packed house at the Village East Cinema in NYC on August 1st, 2009. Anvil was in attendance for a live performance after the show to celebrate the film and to market the re-release of their 13th album, THIS IS THIRTEEN. Go and see this documentary, folks! You have no excuses, the movie is readily available!
Check out the performance of "Metal on Metal" after the screening at Village East Cinema below: