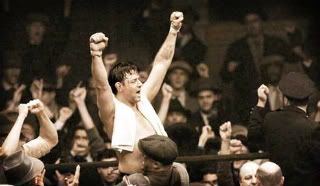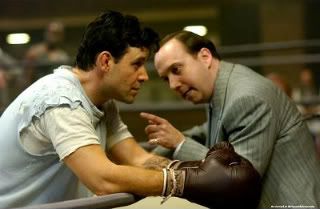 Director: Ron Howard
Stars: Russell Crowe, Renee Zellweger, Craig Bierko, Paul Giamatti
Genre: boxing drama, biography
I couldn't find a more fitting way to celebrate Boxing Day on December 26 than to shine a spotlight on the real life story of light heavyweight pugilist -- the
bulldog from north bergen
-- the pride of New Jersey,
James J. Braddock
! He was a tremendous inspiration to many americans during the time of the great depression when our country needed a shot in the arm during a very dark period of economic duress.
Cinderella Man
would be a great representation that told the tale of his struggle!
Yes, this film is about a professional boxer, but in essence, it was really more about the undying love between a man, his family, & how they stuck together as he remained true to himself while he used boxing as a vehicle to lift his family from poverty which would give working class americans throughout the country something to cheer for at a time when bringing food to the table was a major concern.
The outstanding performances by Russell Crowe as James J. Braddock, Renee Zellweger as the wife, & Paul Giamatti as Joe Gould the trainer clearly stood out from the pack! Even the boxing sequences and choreography seem to be on par with the fighting style from that era. The movie did a great job depicting Braddock as a humble, working class family man while his trainer was a boisterous, in your face brazen individual. A nice combination of personalities that would play off each other well in the game of boxing. All the while, Braddock's wife would stand by his man as he struggles to provide for his family when the great depression hit hard in 1929. It didn't help the situation when the Bulldog of Bergen lost his stock as a major heavyweight title contender when he lost a 15 round fight to Tommy Loughran in 1929. Braddock's stronghold as a fighter began to plummet as did Wall Street. On 9/25/1933, 4 years into the great depression, the BullDog lost a fight to Abe Feldman in Mt. Vernon, NY. Compounded with injuries, the boxing promoters begin to label Braddock as an embarassment in the ring, not living up to his expectations. The bulldog of bergen would soon find himself with a revoked boxing license as his life begins to spiral downwards. Working on the docks as a day to day laborer would be his source of income which is part time at best. No matter how bleek the situation got, Braddock would spend time to show love and preach morality to his kids. A trip to the Emergency relief system of NJ to collect funds would be in order for the family as the electricity is turned off due to non payment. A trip to Madison Square Garden bowl to visit his former boxing contigency including his ex-trainer would reveal a touching scene with him begging for assistance as a broken down man wilted before their eyes.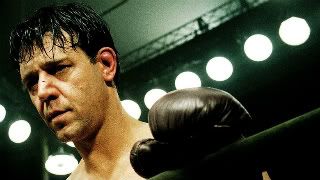 The latter part of the film would be more upbeat when a 2nd chance at life is given to the Bulldog of Bergen as his trainer, Joe Gould manages to get a bout in the ring with the #2 heavyweight contender John "Corn" Griffin as his original opponent had to pull out of the fight. The selling point in signing Braddock for this match was that he had 80+ fights without ever getting knocked out so a Griffin win would make him even more marketable. However, on the day of the fight & 3 rounds in, the Bulldog would flash his new left hook as he developed his southpaw tendencies while working at the docks due to the broken right hand from earlier fights as he KO's "Corn" Griffin for an upset win! A few more successful prerequisite fights would climax into a championship bout with the cocky and menacing Max Baer! That famous fight would become known as the cinderella man bout! And we all know what the final result would be! Long island City, Queens would play host to one of the biggest upsets in sports history! The pride of North Bergen, NJ would eventually lose his title to the Brown Bomber -- Joe Louis who was one of the greatest fighters of all time!
If you are looking for a rags to riches, Rocky Balboa story or a dramatic train wreck like Raging Bull then you should steer clear of Cinderella Man. James Braddock offers a much more subtle, heartwarming tale in a not so heartwarming economic frame of mind in american history. There were no fairy tales despite the cinderella name. And there definitely were no glass slippers nor pumpkins turning into carriages. The bulldog of bergen, the pride of New Jersey was all blood, sweat, tears, and full of persistence with a little help from some family lovin'!! A true local hero, Braddock went on to serve our country in World War II.
As an interesting side note, pay close attention to the character named Mike in the movie. Mike (Paddy Considine) was a dockworker friend of Braddock in the film. The character talks about instituting work unions & organizing people in order to rebel against the government in order to make change. I thought that was real mind blowing and courageous despite the odds. He also stayed at a self-made shack in central park in an area they called 'hooverville' because they were evicted from their home. Many of the homeless would take refuge at the park.
Go see
Cinderella Man
if this film somehow bob and weaved away from your defense in 2005! Enjoy & appreciate boxing day, folks!!