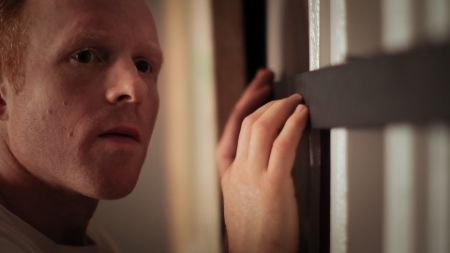 Chris Schoeck, a Brooklyn native, is talking about the act of bending steel. Quite literally, taking a piece of metal and contorting it out of its regular shape before casually casting it to the floor. He shows us too with objects ranging from impressive nails to long, lustrous bars. The feats are impressive, but after the first few times, not all that exciting to look at. Chris goes on to tell about the types of metals he buys, where he attains them from, and other details about his flexing process. It's interesting. To an extent. But the idea of listening to him talk about it for the length of a feature film is not feeling all that enticing in these opening moments of the film.
This initial ambivalence makes it an even greater pleasure to watch Chris journey along a transformative path in Dave Carroll's cleverly rendered documentary BENDING STEEL. Along the way Chris' very particular mindset and his dogged determination in the face of internal and external struggles reveals him to be a fascinating individual.
In little time, it becomes clear that Chris' ability to engage an audience personably is the main challenge that lies ahead, not so much the act of disfiguring metal. He discusses his goal of performing his acts of strength in an old-fashioned strongman show to friend and mentor Chris Rider, an accomplished strongman himself who, unlike Schoeck, is gifted with a flair for performance.
Theirs is the type of attraction you would once upon a time find gracing the vibrant scene of Coney Island, along with freak shows and other attractions that have seen revivals in recent days. Rider is encouraging; but he makes it clear that the show is as important as the feat itself, and for it to work Chris must become a more dynamic speaker, a more visibly engaging seller of his talent.
Here is the start of some interesting characterization as we are given insight into the psychology behind Chris' interest in his craft. His connection to this act, what it represents to him, is quite profound. For Chris, manipulating these cold steel objects is not only meaningful in itself. He explains that it represents doing things that were not meant to be done, making the impossible possible. Clearly there are things Schoek would like to change about his life that seem beyond his realm of control, and the act of bending steel is the closest approximation of that. Truly his is a mind over matter story.
Also intriguing is Chris' very particular attitude toward social relations. It is one of cynicism, which actually finds Chris expressing a stronger relation to chunks of steel than most other people. It is an extreme position, but one many of us can relate to in times of darkness. Another internal obstacle may possibly be a self-defeating element in Chris' inner psyche. One has to wonder as he adds a metal bar that he has never been able to bend before into his repertoire for the upcoming show. Not only must he develop a winning delivery for the feats he is confident about, he must now concern himself with a test of strength he cannot overcome.

The person who seems most astute as to Chris Schoeck's struggles is Schoeck himself. He speaks quite introspectively about the mental obstacles in his way. At one point, sitting on reclining chairs in a room that looks rather like a therapist's office (I presumed it is in Chris' home) he speaks candidly about the concerns on his mind and the obstacles preventing him from moving forward.
Another significant point of view is that of Chris' parents. Brief conversations with them reveal a strong possible factor on his outlook on life. This is point is made even clearer as we experience an awkward lunch with Schoeck, Rider, and Schoeck's parents at their family home. It has shades of the awkward dining scene in Vincent Gallo's fictional Bufallo 66. By the time it is finished, it is clear that Chris longs for an approval that he has grown to become cautiously guarded against hoping to receive.
All the while, still little is known about Chris. Outside of his feats of strength and his apparently strained relationship with his parents, much of his life remains a mystery. For those curious about Schoeck's vocation, pay close attention to the early moments of the film where a possible job is hinted at, but not returned to at any point later in the film.
Carroll has done an amazing job taking the challenges that accumulate and structuring them into a highly tense narrative that rivals the most riveting works of narrative fiction. Forces of nature (in the form of a looming Hurricane Irene which many East Coast viewers will remember from a few years ago), Chris' own anxiety and the daunting task of an as of yet insurmountable physical test are all incorporated into the story thrillingly.
Chris' metamorphosis is a joy to watch. It is shown in little touches, like how Chris cajoles his parents into coming to his debut performance, or how he tweeks his interactions with audiences for his trial runs while still maintaining a hopelessly aloof charm. Little by little, you care for this individual and feel deeply concerned over the outcome of his pursuit.
Add to this intense voyage, the colorful backdrop of Coney Island, whose unique charm is shown as cameras briefly tours the fabled boardwalk, its sideshow museum, and the frenetic motion of Luna Park. There is also a cast of characters of that embody the outsider spirit of Coney Island, including legendary strongman icons of the past (who provide crucial advice for Chris), and an unruly band of current innovators on the strongman scene who have created their own culture of one-upmanship.
The fact that I had trouble containing my emotions during the film's unceremonious and subdued press screening is perhaps the best evidence of how powerful BENDING STEEL is.