While I've mentioned it a couple of times already, Subway Cinema, the minds behind the New York Asian Film Festival sent out a press release concerning their Old School Kung Fu Fest. Here's the Press release with details of all the films.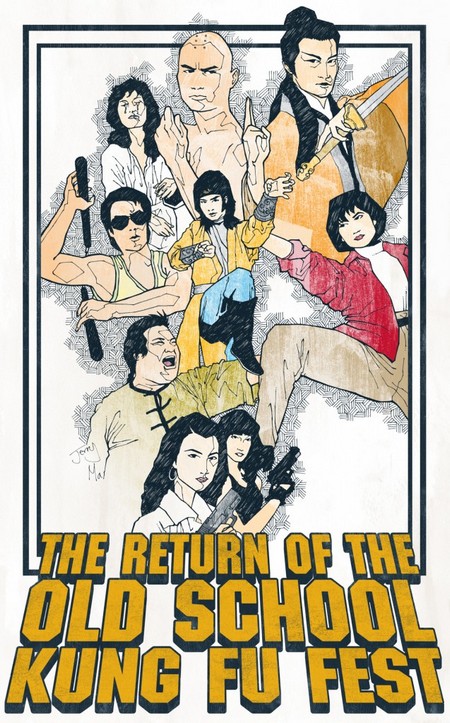 OLD SCHOOL KUNG FU FEST
April 19 – April 21
Just when you thought it was safe to go back in the movie theater…the Old School Kung Fu Fest is back! The New York Asian Film Festival's wildly popular celebration of kung fu movies from the 70s and 80s that pop your lock, rattle your chops, and put the pain inside your brain has returned after a 10-year absence to send your kung fu knowledge back to school. This time the spotlight shines on some of the biggest stars in some of their rarest movies. We've got Gordon Liu (36TH CHAMBER OF SHAOLIN), Sammo Hung (Jackie Chan's "big brother"), Kara Hui (Lau Kar-leung's female star of choice), Bruce Leung (KUNG FU HUSTLE), and even Bruce Lee (after a fashion). With prints loaned from the vaults of the American Genre Film Archive and the Taipei Economic and Cultural Office New York, prepare to earn your Master's Degree in Kick Ass-ology!
Organized by the New York Asian Film Festival (www.subwaycinema.com), featuring old school curatorial skillz by Grady Hendrix and Goran Topalovic. In memory of our friend Daniel Anderson Craft. Special thanks to Jerry Ma of Epic Proportions (www.epicprops.com) for another kick-ass poster design. Daniel would've approved!
All films are being screened at Film Anthology Archives, 32 Second Ave New York, NY 10003.
Unless otherwise noted, the 35mm prints were provided by the American Genre Film Archive (www.americangenrefilm.com).
THE ODD COUPLE
April 19 at 6:15 PM
April 21 at 9:15 PM
SHAOLIN AND WU-TANG
April 19 at 8:30 PM
April 20 at 2:00 PM
THE DRAGON LIVES AGAIN
April 19 at 10:30 PM
April 21 at 1:00 PM
SHAOLIN TEMPLE AGAINST LAMA
April 20 at 4:00 PM
April 21 at 7:15 PM
ANGEL TERMINATORS
April 20 at 6:00 PM
April 21 at 5:15 PM
SECRET SCREENING – ONE SHOW ONLY!!!!
April 20 at 8:00 PM
RED SPELL SPELLS RED
April 20 at 10:00 PM
April 21 at 3:15 PM
For Details go
here