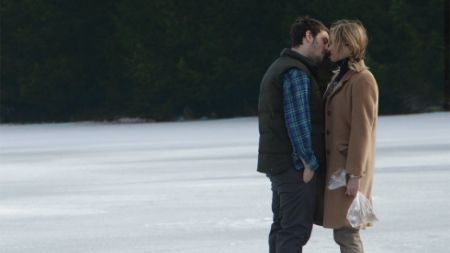 Mo Ogrodnik's DEEP POWDER weaves a tale based on real life stories that begins with the intersection of two individuals from vastly different societal poles, their resultant attraction, and a misadventure into international drug smuggling that leaves them both forever changed.
It is the early '80's and Natasha is a student at a prestigious East Coast boarding school. While skiing, she encounters Danny, a lift operator who is working to earn enough money to go to any college of reasonable stature. Instantly drawn to one another, she rejects the taunts of her wealthy peers as he wards off the misgivings of a coworker. They soon they become a passionate item.
Natasha's circle of friends make up a fraternal organization which, right around the time of more stringent enforcement and way before cautionary tales like Locked Up Abroad reached airwaves, take trips to Ecuador to smuggle cocaine back across the border. A lottery ritual results in Natasha being next to take the trip. Custom maintains that the 'winner' select one other member to go as well, but Ana spurns tradition and insists on going alone. This positions her to clandestinely bring Danny in on the highly risky undertaking. What follows is a tense look at their whirlwind escapade with a looming cloud of dire consequences hovering just above, and the taxing aftermath of it all.
It is a solid drama that contains quite a bit less details on the pivotal point of the story in Ecuador as suspense-seekers might expect or hope. The pairs' transgressions are given a tense but brief amount of attention. Far more time is spent displaying the chemistry of the film's star-crossed lovers.
The tale is interspersed with taped clips of characters reflecting on the actions of the pair. They show how set apart the two were from their peers, whose thoughts reflect an unwillingness to understand, much less accept, a relationship between those from such different spheres of society. It also reminds us of the story's ties to real life events, how individuals pulled into rash behavior gone unchecked can lead to a ripple of calamitous effects all those connected: family and friends alike.
Haley Bennet is cast quite effectively in the role of Natasha. She gives a very apt portrayal of someone unfamiliar with consequences who will plead innocence after an offending act, then turn the situation into one that evokes pity from those she hopes to charm. She has a naturally seductive glint in her eye, but her expression changes from one of charm to brooding chaos in an instant. Shiloh Fernandez also does a formidable job in the role of an idealistic young adult, torn between the heavy burden of supporting his family and a fast track to greater things.
At its core, DEEP POWDER shows that lives are not all created equal. Even those born into similarly advantageous economical backgrounds can be set on vastly different paths due to the stability and apparent concern of adult figures in their lives. From the film's beginning, with its contrasting views of privilege and hardship, to its conclusion of varying fates, DEEP POWDER plants an often discounted actuality of imbalance firmly in our consciousness.