Last night was the opening night of the 12th, New York Asian Film Festival, digging its foothold even deeper into Lincoln Center's Walter Reade Theater, with no signs of going anywhere. I arrived for the 2nd movie on the slate, VULGARIA, and it affirmed that the guys running this thing know exactly how to pick a kick off movie. It's all about celebration, cheers, and rallying a crowd into something somewhere beyond passive spectator mode.
Last night's was a different feel than the year before and perhaps some others as well, in that it was less a gala affair, with extremely talented but decidedly on the fringe director Pang Ho-Cheung (who was largely responsible for VULGARIA) in the guest spot. No throngs of photographers or seat filling entourages were on hand (this is perhaps something reserved for the Star New Asia award presentation, which this year, will take place on) but it only served to make the event more about the people in the audience.
What exactly made VULGARIA such a prime opening night feature was its combination of outlandishness, flouting of the rules (whichever ones there still are, this definitely flies in the face of them), and very clever humor. There is the appeal, first of all, of the movie within a movie idea, as we follow an account of a b-level producer's harrowing experiences as he tries to make a movie from hell. Different elements conspire together to make it one of the most shockingly offensive productions imaginable, even more so (though not necessarily by all that much) than the film it is set within. Also a great deal of fun is the framing device of the producer lecturing a group of university students, whose vantage point easily coincides with us in the audience. The cynical students often interrupt the account of things to ask question and express disbelief that would channel our own states of mind. One fantastic instance of this is a terse request for him to get off the subject of his personal life and confirm the far more provocative details of a sexual encounter with a mule, which may or may not have happened.
There is similar gross-out humor, calling out local cuisines and creative sexual acts. More humorous to me was the abundance of wordplay and dialogue based humor. There is a hilarious exchange between the producer and workers rights representative called in to take him to task when his words are taken vastly out of context. There is also great societal humor, some of it that would probably benefit from the insight of a native speaker, and many references alluding to and poking fun at the film industry. Whether it was intended to be or not, I found it a riot to hear 'Lord of the Rings' (i think it was that) and 'Infernal Affairs' (playing NYAFF a few days later!) referred to in the same breath as examples of major cinematic works. The film is also gives testament to the power of social media. Yet, along with all these ideas and the baudy humor, it is at its heart a sympathetic look at the so called 'losers' at the margins of society and their struggles to do what they do and still be connected to those they love. It is a winning combination of ideas and sentiment presented in a frenetic in your face style.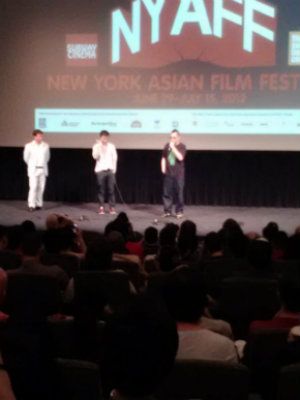 The movie was followed by a q & a with the audience, hosted by the welcome presence of festival figurehead Grady Hendrix. Cheung spoke largely about the even more incredible fact that most of the situations depicted in the film mirror real life instances. We also learned that this was produced entirely by Cheung. He showed a wit in his exchanges with the audience, making me regret taking a break from screenings today when they'll be showing a series of his earliest home movies (packaged under the title Pang-Ho Cheung's First Attempt) while he does live commentary in the theater. I look forward to Db's report on that. The last thing they spoke of, as if in answer to Db's late night appeal, is that VULGARIA has earned a US release by China Lion in the not too distant future!
Moving forward about an hour, after a few beers and chats in the lobby area, and we come to the monstrosity of WTF that was Shaw Brothers classic BOXER'S OMEN. As opposed to the constant guffaws that come from hyperactively charged wackiness and bad acting, this was a slow slog through mind melting insanity. What happened is not entirely clear to me. It involved two fighters in a boxing ring, one being from Thailand, who competed until the Thai fighter claimed victory through some questionable means. Enter Thailand, a quest for revenge, a transformation into a monk, and a back and forth battle taking place in one black (possibly on another plane of existence) room involving sorcery, demonically possessed wildlife, disembodied heads and appendages, and LOTS of regurgitation of food. Meanwhile, scenes of more boxing back in China. This film serves as a reminder that you can not spend enough money or develop effects technologically advanced enough to come anywhere near to touching the disgust and fascination evoked by these low budget, twisted, and supremely imaginative effects and disregard for good taste. Highlights include a head that turns green, hovers above a levitating monk, and shoots down organ-like strands of flesh to wrap around his head and upper body. Later, a crocodile is turned over, cut open, disemboweled, before a zombified woman is lowered inside of it, sealed, and taken out covered with all manner of crawling beasties. This is all interspersed with shamanistic chanting. I'm not sure that, if shown in the proper fashion, the film will in fact incure the wrath of some malevolent spirit.
Thank you New York Asian Film Festival, for a memorable opening night!
On today's docket: Welcome Choi Min-Sik with screenings of OLDBOY and latest NAMELESS GANGSTER, both of which he will attend, martial arts classic Five Fingers of Death which director Chung Chang-Wha will attend, and tonight's late night contender, GOKE, BODY SNATCHER FROM HELL!