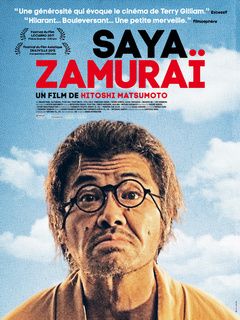 Some years back I watched Matsumoto Hitoshi's Dainipponjin to some degree of disappointment. A mockumentary about a washed up and hopelessly failing kaiju (giant monster) hero, I found it to be a very clever idea. But it banged out the same note rather repetitively, making me feel trapped by an overbearing cynicism.
Two films later, Hitoshi's latest work has caught me off guard with an amazingly disarming sincerity. I watched in delight as a slight yet amusing version of a fairy tale transformed into something far more profound and emotionally rich right before my eyes.
The movie's premise is a simple one. During the Edo period, a disgraced samurai, wanted for deserting his post, is captured by a feudal lord with a rather unconventional condition for his prisoners: get his sorrowful son to crack a smile within 30 days, or commit ritual suicide upon failure to do so. It is up to the 'scabbard samurai,' named so for his cowardly reputation as a harmless shell of a warrior, to find a way to thaw the prince's iced over heart and also earn back the respect of his hard nosed daughter and travelling companion, Tae.
As Matsumoto chronicles one attempt at evoking laughter after the next after the next, we can see his penchant for oversized fantastical set pieces at work. Between out and out ridiculous slapstick efforts are giant cannons firing out the samurai himself off an expansive beach coast, a wood-and-iron mechanical contraption that launches human fireworks skyward, and a massive pinwheel.
As the woeful samurai's number of remaining attempts dwindles down to zero, expectations of the usual variety are probably occurring in the audience's mind. And then, with but a small fraction of its running time remaining, Matsumoto pulls out a halting cinematic trick by bringing about a total shift in tone that is both jarring and wonderful. It is a messy, seemingly counterintuitive move that finds the movie with its heart splayed out all over its sleeve. All cynicism is melted away and I will admit to feeling no less than stunned in its wake.
After fully absorbing the impact of its sheer sincerity, one can appreciate Scabbard Samurai on some more subtle levels. Recalling my own reaction to this director's first feature as 'one note,' I found myself looking again at the 30 day trial. The same concept is shown repeatedly, with slight variations, followed each time by a bellowing insistence for the failed entertainer to commit ritual suicide. Could Matsumoto be cleverly referencing his own artistic path with the final act of Scabbard Samurai representing a new, soul baring, and all the more riskier for it, direction he is embarking on...starting within this very movie?
It is interesting, as well, to see a common theme appear throughout Matsumoto's slowly growing body of work. Like in Dainipponjin, this film's central character is visibly aging and weary of the pace of the world that whirl past him. Takaaki Nomi's lead performance is a subtle bit of magic as he wordlessly imparts inspiration, determination, and feeling resigned to failure through body language and facial expressions. Look him up on IMDB and you will find one of the shortest profiles of a lead actor around. Apparently, Matsumoto discovered him in the audience of a tv show taping and found a way to get him into this film with him knowing he was the lead until after shooting was finished. It calls to mind the tendency of stateside comedy outcasts Tim and Eric to cast nonprofessional actors with refreshingly unpolished looks and mannerisms, like Richard Dunn, in their productions.
Scabbard Samurai, with its coiled up surprise, is a perfect film festival movie. It will have audiences turning to each other and sharing a moment; not the knowing, winking sort but one of having experienced something that boldly lays sentiment on the line.
SCABBARD SAMURAI

IS BEING SCREENED ON FRIDAY, JULY 6 AT THE WALTER READE THEATER OF LINCOLN CENTER AND SATURDAY, JULY 14 AT THE JAPAN SOCIETY
VISIT THE SUBWAY CINEMA AND JAPAN CUTS WEBSITES FOR DETAILS.
Me on Twitter = @mondocurry