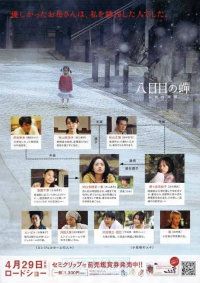 While it is perhaps true of all cultures, Western ones seem find it particularly difficult to show or view a conflict in absence of judgment. When something unfortunate happens, there must be a party in the right and one in the wrong, just and unjust. Although, I suppose it's become increasingly easy to cast negative judgment on all sides of an issue.
So it goes with the film Rebirth (whose Japanese title, Youkame No Semi, translates to 'The Cicada's Eighth Day)...perusing blogs and comments of those who have seen it in Japan (it opened in theaters there in 2011) or a television drama based on the same novel, reactions come down to taking sides:
'I couldn't sympathize with this character at all because what she did was so completely immoral.'
'She shouldn't have done that, but then the mother was a b----, so she was right to...'
Yet despite reactions, this Japanese academy award sweeping film poses quite a challenge to absolute moral judgment with its look at an impulsive criminal act and the course of events that follow.
Rebirth opens in tight courtroom suspense mode and a dour mood. The defendant, Kiwako, on trial for taking a four month old girl and raising her in secret for 4 years, and Akiyama Etsuko, the child's mother, make final statements before a judge. The mother is wrathful. Kiwako is sorrowful, yet firmly unapologetic. An affair with the father, which was ended by him but not on mutual terms, led up to her rash act of kidnapping. After Kiwako is found guilty and the tension of this scene reaches its height, the film moves around through different phases of time to color in the acts leading up to Kiwako's transgression, as well as her efforts to raise the girl, Akiyama Erina, while at the same time evading capture.
The film takes its time to eventually settle on its other, arguably main focus: a young adult Akiyama Erina, living the life of a detached college student with a part time waitressing job. A woman of a similar age as Erina, introducing herself as a reporter, presents her with a dossier on Kiwako and the the trial, an aspect of Erina's life that she had apparently not yet been ready or willing to explore.
The events shape up to focus more on the trials of Erina from herein -- an affair with a married man finds her following a similar path to that of Kiwako and also results in an unexpected pregnancy, while her relationship with her parents is strained at best from since she was returned to her natural parents. And as they do, the flashbacks shift from the point of view of Kiwako to that of Erina as she and the supposed reporter who has an oddly keen interest in her take to the road together to retrace her path in tow with Kiwako and sort out the events of her past.
While the film is often labeled as suspense -- and there are some elements of it, it depicts a rather languid life on the run. As Kiwako sought refuge and support in the newfound task of raising a child, she found herself indoctrinated into a separatist cult (which is also not portrayed as malevolent), and then settling and working in the rustic island community of Shodoshima. In fact, most of the tension occurs early on with the film's end run focusing on Erina's emerging recollections, her coming to terms with an unconventional past, and her resolve for the future.
It is a through and through beautifully shot film. The camera captures small portraits of characters' uneasy frames of mind amidst a scenic backdrop of rural Japan. This is helped in no uncertain terms by the portrayal of these emotionally complex characters by a very accomplished cast, led by Mao Inoue as Erina and Hiromi Nagasaku (who also appeared in a role of great psychic duress in 2010's Wandering Home, a 2011 Japan Cuts selection) as Kiwako. Intermixed with a moody score are songs by Jack Johnson and Beach House, giving it a fresh and contemporary feel.
What prevents the film from being an all around great drama goes back to its treatment of immoral acts. I do not find its more neutral portrayal of Kiwako's kidnapping a sore point, nor the sympathetic portrayal of her as a caring mother figure. Life is not always made up of such simple black and white ways of looking at an issue, nor should characterizations in movies be as such. While the movie does not cast a suggestive dark shadow over characters for their acts, it does not do much to explore the factors surrounding such an incident. A film like A Separation shows society's role in creating morally ambiguous situations where people are lead into conundrums like this, all the while struggling internally. Kiwako's motherly instincts make her a sympathetic figure so the fact that she is not shown to at least reflect on the consequences of her actions doesn't quite add up. We are left with the possibility that she shut such thoughts out of her mind, like someone who blocks out memories in order to cope with a trauma, but that notion is a bit lacking in substance.
Perhaps the story should have been built more firmly around Erina's perspective. It is her journey that we are building towards in the conclusion after all, which is something that does not have quite a natural fit with the progression of the story from early on. Again, had the story's construction been focused more consistently, it would have perhaps made a stronger statement...and made more sense to me as a winner of this year's best film award of the Japanese Academy. It does not compare to the powerful visions of the prior year's winner Confessions and frontrunner Villain.
Still, Rebirth has an undeniable beauty and weaves a dramatic tale with an intriguing turn of events that will fall upon many a teary eye.
Rebirth is being shown as part of the Japan Cuts festival, taking place at the Japan Society, Tuesday July 24, at 7:00 PM.
Me on twitter = @mondocurry