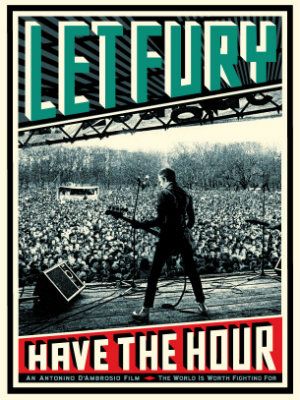 The revolution will not be televised. it will be screened in independent movie houses if Antonino D'Ambrosio and Shepard Fairey (director and collaborater/co-producer of Let Fury Have the Hour) have anything to say about it. The movie, taking its title a lyric to the song 'Clampdown' by The Clash, had its world premiere this past week at the Tribeca Film Festival. It is an absorbing, enraging, and often times inspiring documentary comprised of numerous talking heads discussing the covert tyranny of governments adhering to an agenda of greed, and their responses to it, primarily through (but not limited to) artistic expression. The term 'creative response' is used as shorthand for ways of answering the oppressive mood of the times rather than giving in to despair. In between the personal accounts and politico-social analysis of a good 50 interview subjects are actual propaganda clips and rousing performances by both artists featured in the film and those that inspired them to action.
After briefly introducing the idea of creative response, the film takes a sharp look at the rise to power of Reagan and Thatcher in the 80's, presenting it as the beginning of a dramatic downturn of national morale in either of those leader's countries. Responsibility for others was discouraged while tacit approval of greed, selfishness, and disregard for those less fortunate than oneself thrived under the guise of 'individualism.' In essence a covert war was being established between the haves and have nots, with government pulling strings in favor of the former. It is a densely packed section, fitting a great amount of detail into a relatively short chunk of time.
Antonino D'Ambrosio and Shepard Fairey have a posse
As the film moves on, we hear more about the formative experiences that lead many of the subjects into politically charged artistic activity. Here is really the highlight, as the inspiration of music, particularly punk rock, is the veritable soul of the project. A theme runs through the accounts of the musicians interviewed, showing disconnected suburban upbringings in which music seemed inaccessible until along would come each one's discovery of punk bands like The Clash. It is thrilling hearing about the sudden call to action this would inspire, with some artists forming or jumping into bands the next day. Shepard Fairey had a similar experience, applying the punk rock aesthetic to visual arts with his mass produced propaganda style images being used to spread his creative response. Parallel to punk's influence is the impact made by the political hip hop of Public Enemy, who are referenced not only as an inspiration to musicians, but also on activism and protest within disadvantaged communities.
The most impressive achievement of the film is the weaving together of so many powerful voices. The interview subjects range from musicians, poets, playwrights, visual artists, comedians and film directors to those from less celebrated professions like professors, lawyers, and essayists. It would be hard to say whose voices are most significant as this is bound to be subjective to people's familiarity or fanship of certain individuals. Music figuring in as prominently as it does, I felt the words of Ian McKaye (Fugazi, founder of indie label Dischord Records), Chuck D. (Public Enemy), and Tom Morello (formerly Rage Against the Machine, currently Night Watchmen among others) had a particularly strong impact. Sometimes those with less screen time, like comedian Lewis Black, offered up Fury's most prophetic and memorable sound bites, while older figures like director John Sayles provided great historical insight. Unfamiliar figures also provide some of the most poignant observations and moving personal stories.
From here, the film shifts back and forth between political discussion and somewhat celebratory personal reactions to taking part in creative activity, perhaps lingering a bit too long on the latter. Its closing moments fittingly bring up the need for creative response to translate into mass organization and action, posing more questions about this next crucial step than definite answers.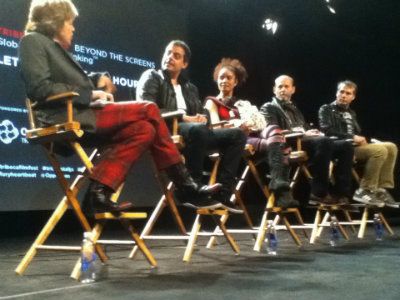 Furious 5:(left to right) Laura Flanders, D'Ambrosio, Staceyann Chin, Wayne Kramer, Fairey
When the film ended, a discussion was held by moderator Laura Flanders and individuals with varying associations with the film: Antonino D'Ambrosio and Shepard Fairey, both mentioned above, were joined by poet Staceyann Chin (whose intense spoken performance of one of her poems during the film caused an outbreak of applause), and Wayne Kramer, guitarist for the MC5, who spoke in the film and was also cited by many as another influential force in punk rock. While congratulations and compliments were bestowed, it did not take long before questions took on a demanding edge. When asked why the film focused primarily on the politics of the 80s and not so much the era that would follow, director D'Ambrosio responded that the project is his own personal response to his experiences from the place in time that was most formative for him. Fairey, in response to questions about the criticism of individualism spoke eloquently about the dangers of any political philosophy taken to a dangerous extreme (this was a handy reference point as the militantly anti-individualist stance of China's government is rallied against in another documentary featured at Tribeca this year, "High Tech, Low Life." He also discussed some connections to his recent work with the growing Occupy movement.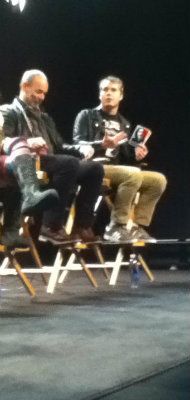 Kramer and Fairey (holding up some of his highly distributable art)
The question remains if it will be possible for the film to be both congratulatory the film subjects' collective achievements and at the same time enough of a provocation to make a difference. The team on hand suggested plans to tour the movie around when it gets a release, with public appearances (and perhaps some uplifting performances) from those connected to the film.
Let's do more than just hope that the project gets the attention and support that it deserves.
"Let fury have the hour, anger can be power. Do you know that you can use it?" - The Clash. "The Clampdown."