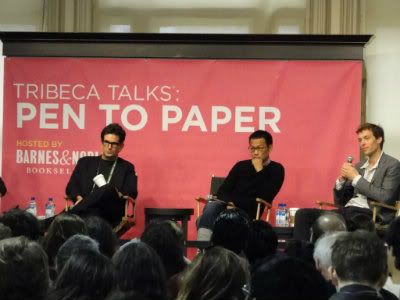 Left to Right: Charlie Matthau, Pen-Ek Ratanaruang, Donald Rice
The concept of watching books turn into movies has held much interest for me of late. As major works such as Girl with the Dragon Tattoo and Hunger Games have been adapted to the form of big screen entertainment, I've pondered how best to perceive them. If there is in fact in some rule of thumb we could apply to determining their value as a reworking of another medium as opposed to just another movie. Should cinematic shortcomings be overlooked in light of the value of bringing a worthwhile book into a more widely received medium? Or should these works be raked through the coals for their lack of faithfulness to the original source material? Considering the built in audiences they will bring to theaters, one might argue that it's not unreasonable to see these projects as servants of the stories they purport to tell. A more reasonable view may hold that these films should be judged entirely on their own merit, without a need for falling back on the printed source material to fill in the blanks when details do not translate on screen.
I was naturally drawn to the entry of the Tribeca Talks Pen to Paper series, Based on the Book, which looks at experiences of adapting novels to the screen from the point of view of three very different directors. Film critic Mark Adams moderated the panel, which took place in the open space of the Union Square Barnes & Noble's third floor and was open to the public for free. The large but cozy space attracted a full house, ranging from creative types in the film industry seeking advice on their adaptation endeavors to fans of the work by specific directors participating in the talk.
The event would not shed much light on the issue of how to receive large budget adaptations of major works, as this event focused on independent ventures being screened in the festival. Two were world premieres: Freaky Deaky, an adaptation of an Elmore Leonard novel directed by Charlie Matthau would receive its debut screening a few hours later at the School of Visual Arts complete with a red carpet reception for the film's cas,t and Cheerful Weather for the Wedding, a 1930s period film directed by UK director Donald Rice. The third film came from Thai director Pen-ek Ratanaruang, who without question stood out as the wild card of the three, as he came to present his latest film Headshot, an adaptation of a noir influenced novel
Fon Tuk Kuen Fah
by Win Lyovarin. The talk did, however, shed some light on directors' varying attitudes towards transforming written words to moving images and the obstacles they encountered. It also gave weight to the notion of film adaptations ultimately being unique creations taking on their own life independent from the stories that they initially sprang from.
The directors with panel moderator Mark Adams
The idea of creating untarnished mirror images of the novels movies are based on was quickly dispensed with. Each of the directors on hand spoke of aesthetic and logistical changes they made to the stories they adapted. To bring Freaky Deaky to the screen, Matthau convinced Elmore to go along with a significant change in temporal setting, moving the story from some time in the 80's to 1974. The music, drug culture, and uninhibited attitude of that decade would prove to be a major element of the movie's aesthetic. Donald Rice "killed an aunt" realizing that unnecessary characters would clutter the screen, when the qualities of minor players could be combined into one. Pen-ek, feeling perhaps the least attachment to the novel he reworked, kept only the opening and conclusion of the original work while changing everything in between. Being taken primarily with the visual concept of a hit man who is shot and ends up seeing everything upside down, he felt little obligation to the rest of novel. Reportedly, he continues to maintain a friendship with the book's author, Win Lyovarin.
Other editorial decisions that may not occur to the average moviegoer include the whether or not to use dialogue. Matthau and his crew went back and forth on a witty line that did not seem to gel with the pacing, but ultimately left it in because of the laughs it would get. Narration is another element that may be included to maintain the original voice of a novel, but for Rice, proved to be an idea that ended up on the cutting room floor. He felt it was boring and spelled out details that were already apparent from watching the actions of the characters.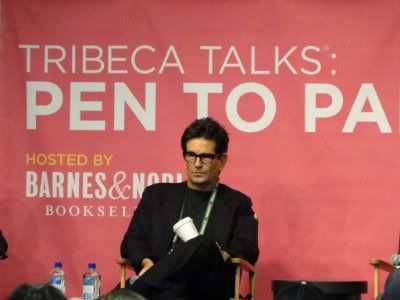 Freaky Deaky director Charlie Matthau
Something all three directors shared was an attitude that once the idea for a film adaptation becomes a reality, it is its own entity, owing less to the original creation than some intransigent fans of the novel may expect. Pen-ek suggested that once a film's shooting begins, it is best to forget about the book adaptation aspect. Rice expressed satisfaction at cutting away unneeded elements rather than trying to include as much as possible from the original novel in the film. Some criticism was leveled at movies like Watchmen, which had potential to be amazing, but seemed to be too tied down to the original comic. There was an overall sentiment that it is best to "let go of the book" and allow the "film (to) become its own thing."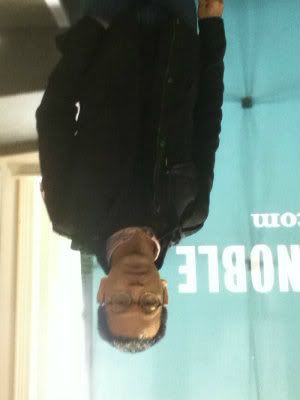 Pen-ek Ratanaruang, whose film Headshot is about an assassin who after being shot sees everything upside down
And what of the future plans of these directors in adaptations? Or in general? Matthau teased his next project, The Sugar Shack, which promises a combination of Caddy Shack and The Full Monty. Unsurprisingly, he expressed an open willingness to adapt more of Elmore's works to the screen, as a likeminded attitude shared by himself and the crime novelist was made apparent during the talk. He also talked about a recent interest in developing an adaptation for the novel Huge, by James W. Fuerst. Donald Rice is working on a project based Ealing comedies from the 40's and 50's. As for Ratanaruang, he is generally open to more adaptation work, it being easier than writing his own stories. Regardless of where the ideas for his films come from, the Thai director quipped that financial backers are reluctant to support anything that isn't broad comedy with plenty of falling down.
Photo credits: Mr. C, Mondocurry