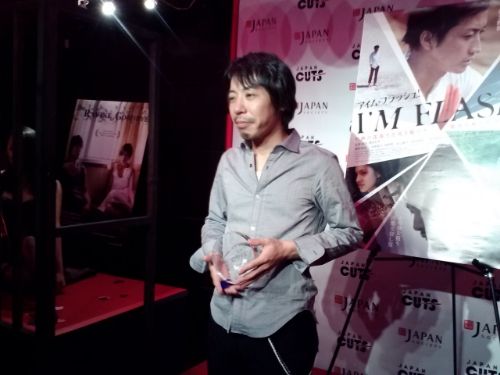 When we left off, I was giving Db a cheery wave just as I was saying hello. He was lined up for the final movie to screen at the Walter Reade Theater, SECRETLY GREATLY from South Korea, which he talked about
here
.
I hopped on a Citibike and started pedaling for the Japan Society, in what turned out to be a nice, brisk ride. And thanks to a docking station right across from the building and the delayed start times due to all the hectic activity, not a moment of the introduction or film was missed.
(note: to organizations interested in endorsement deals, product placement, etc please feel free to contact me as indicated below – MC)
The evening began with Samuel Jamier, who for the second year in a row has been singlehandedly programming Japan Cuts while contributing significantly to the New York Asian Film Festival, introducing Toshiaki Toyoda as a daring director who's made many films that were shown during previous years' festivals (Hanging Garden, Blood of Rebirth, Monsters Club among them). He then presented Toyoda with an award for essentially being an unrepentant 'bad boy' of Japanese cinema.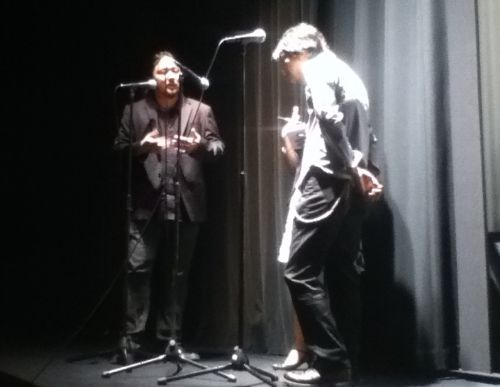 Toyoda introduced the film as a byproduct of the tragic 3/11 earthquake and tsunami, although the film itself has no direct connection. Right before it began, we were treated to two PSAs direct from Japanese movie theaters warning against recording, downloading illegally, and behaving rudely in movie theaters. One of them featured Hentai Kamen himself.
Better to leave most details of the film for another time. For now, I'll mention how it was very cool to see elements that were exciting about Monsters Club continue to be present in I'M FLASH!. Somethings or Somebodies led me to believe this would be a more straightforward conventional film, but only very slightly. Set in Okinawa, it takes on the sense of lazy drifting that some of Takeshi Kitano's early yakuza films did. Think also of a feature from the NYAFF of yesteryear, Plastic City for a similar sense of gangster violence meeting philosophical ponderings in an exotic locale.
The story finds a trio of gangsters hired to babysit the guru and public face of a religious called the "Life is Beautiful" group. Of course things are fishy. Rui, the guru, likes to go out on the town and liven up the local bar scene with his charisma. A foul mouthed sister threatens him to get his act together while he just wants to go spear fishing in the ocean right out back behind their slightly dilapidated mansion/compound. Everything about the hired yakuzas' job is uncertain. This alternates with flashbacks to a hazardous encounter between Rui and a girl whose family member was involved with the cult religion.
Set to constantly thundering psychedelic rock, the film gives plenty to think about with dialogue that is used economically, but always with interesting ideas. I'M FLASH! Along with Monsters Club has me confident in believing Toyoda makes films that are deeply personal but also deal with questions about individuals and their interaction with society, being isolated but longing to be a part of something more.
After the screening, Toyoda answered questions from Samuel and the audience, clips of which are below. It was then time for a burlesque themed party with a few women…in cages…dressed for the theme. Don't worry, they were let out and seen partaking in the Sapporo beers and yakitori made available to everyone else.
All in all a great start to the Japan-centric final run of the New York Asian Film Festival, and start of Japan Cuts.

Toshiyaki Toyoda introducing I'M FLASH!




Samuel kicks off the Q & A, asks about music in his films



Toyoda on the existence of lonely and isolated figures in his films



On the setting of I'M FLASH!