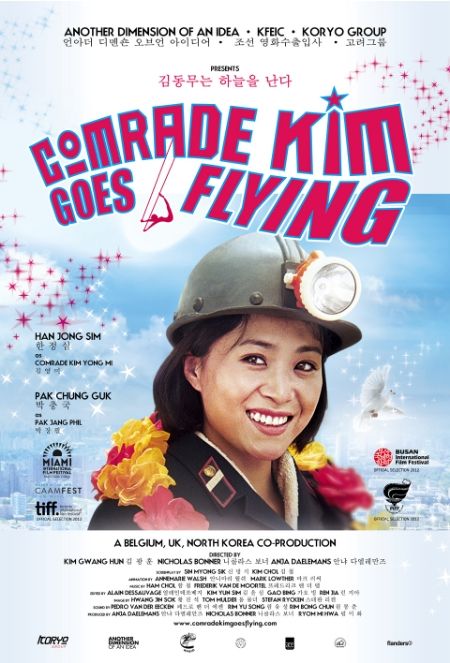 It seems a typically beautiful morning for a young Kim Yong Mi, until a slight wrinkle disrupts the day. Her coal miner father, a future nationally decorated one at that, has left his lunch at home and it is up to Yong Mi to deliver it to him. Attempts to climb the site's high chain link fence prove fruitless and it appears to be a lost cause…til she catches the attention of two staunch high school boys walking by. They cheerily help fashion two oil drums and a long plank into a makeshift seesaw, by which the youthful heroine is catapulted into the air and over the fence to deliver the meal. Yong Mi experiences a soaring sensation…one that begins an epic quest for a simple working class girl to transform herself into a nationally renowned trapeze artist.
If it all sounds a bit too idealistic, too saccharinely naïve, as if a product of another time and place, well part of that would be true. This is the beginning of COMRADE KIM GOES FLYING, the rarest of birds in the feature film aviary that finds directors from Belgium and the UK (Anja Daelemans and Nicholas Bonner respectively) collaborating with North Korean filmmaker Kim Gwang Hun to bring to life this celluloid marvel that is 2 parts communist proclamation, 1 part whimsy, and all around WTF wonderful.
The narrative soon shifts to several years later, and a now entering adulthood Yong Mi is on the verge of setting off on a year long coal mining stint in service to the state. However, her ambitions to fly as a trapeze artist are as strong as ever, a desire that is at odds with her father's wishes that her feet remain planted on the ground and she devote herself to more sober work obligations. After some cajoling from Yong Mi's grandmother, it is agreed that along the way to her future worksite, she may take a detour to the metropolis of Pyongyang to catch a glimpse of the esteemed national circus. At this point something resembling a roadtrip ensues, one that that will lead to encounters with her hero whom she soon learns is retiring from performing, a benevolent worksite manager, a lofty trapeze artist who both ridicules Yong Mi's amateurish attempts to become a trapeze artist and falls for her pluck, his interfering mother, and numerous comrades who pledge their devotion to Yong Mi's cause.


The unbridled sense of weird that emanates throughout COMRADE KIM may begin with the routine use of the term 'comrade' in exchanges between characters, but goes far beyond. The whole film is imbued in an otherworldly Technicolor. Characters wear brightly colored helmets, and those dressed in military fatigues occupy scenes together with others in civilian attire. Interiors are covered in antiquated wallpaper that has both a droll, yet slightly psychedelic feel. Along with animation sequences in the style of retro propaganda artwork that transition between scenes, the 83 minutes of COMRADE KIM are awash in eye candy.
Things proceed serenely enough as Yong Mi wins the admiration of her peers, overcomes a fear of heights, and becomes a more and more accomplished acrobatic through training both conventional and off the cuff. A strident shift occurs in the film's final quarter when the heroine goes into intensive training mode. Sparkling backdrops are replaced with more muted colors of a training facility, as Yong Mi goes through rigorous physical trials, often stumbling and sweating profusely while somehow still maintaining a halo-like glow throughout. This fast editing sequence is machinelike in intensity and seems the most characteristic of bona fide propaganda, adding another layer of uniqueness to COMRADE KIM as a one-of-a-kind viewing experience.
Dialogue also seems to grow increasingly loaded with ideological rhetoric – the collaboration of many outweighing the work of the individual, for instance as it reaches its conclusion. Is there a blatant promotion of proletariat values here? Sure! Yet, untrained actress Han Jong Sim 's performance makes it possible to enjoy the film as a remarkably earnest voyage of a girl who, through an undeterred spirit, achieves her dreams.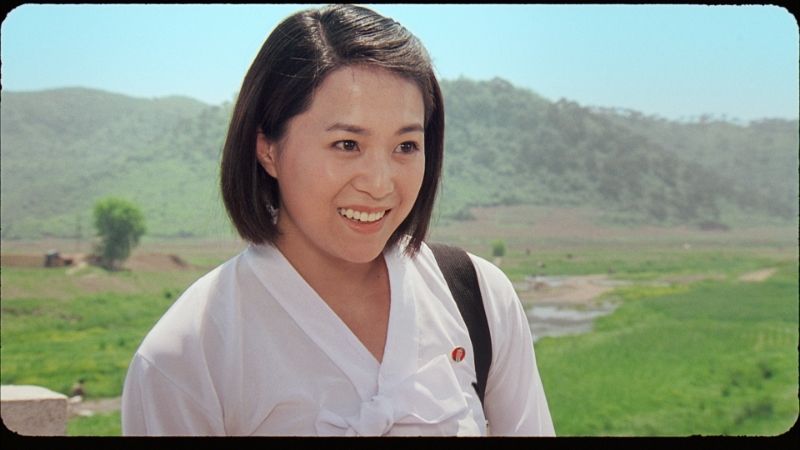 Indeed in Jong Sim, who is an actual circus performer but not a professional actress, there was the discovery of an old fashioned grace reminiscent of
movie stars from a bygone era. While eyes may roll at the unsophisticated transmission of values, hearts will simultaneously be won over by her seemingly effortless charm and grace.
NYAFF continues to redefines the breadth of the 'Asian' in their Asian film programming.
joining to this year's impressive mini-focus on new and challenging cinema from the Philippines and exploitation films from Taiwan's past is this unprecedented North Korean production yielding endearing storytelling with an unapologetic political agenda.
COMRADE KIM GOES FLYING will receive its New York screening premiere as part of the 2013 NewYork Asian Film Festival lineup on July 5th at 2:30 PM in Lincoln Center's Walter Reade Theater. Directors Anja Daelemans and Nicholas Bonner are scheduled to attend and participate in a Q & A. Click here for tickets and schedule details.
Head back here in the coming weeks for an interview with Nicholas Bonner.