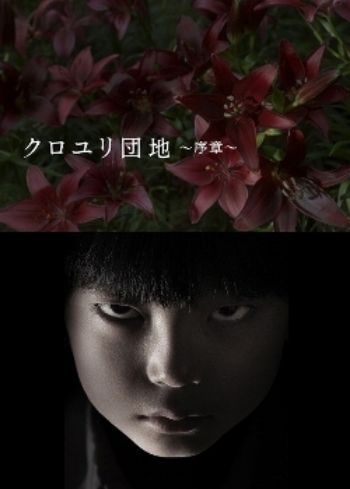 Not often, perhaps not ever, does a horror movie, and certainly not a Japanese horror movie, have an effect of causing tears to well up in my eyes. Perhaps it was something to do with the mood I've been in of late, but recently released THE COMPLEX (Kuroyuri Danchi is its native Japanese title) really got to me. It is a rare kind of horror film that has plenty of heart, arguably more so than it does scares. It would seem a hard sell in any culture, which has me a little concerned over the fate of this genre outcast. It could easily end up orphaned by a community of horror fans rejecting its lack of traditional characteristics and overlooked by those who are turned off by horror.
The film starts off evoking the eerie stillness of apartment life in quiet suburban Japan. Asuka unpacks her belongings in this new home along with her very typical family comprised of her parents and little brother. There is little more than the subtle creepiness evoked by Hideo Nakata (famous for The Ring) in his assured direction. The mood gets more ominous when a customary visit to greet the neighbors leads to a bit more unsettling scares: rusted doors jolt open and closed, jarring (I find them interesting even) sounds punctuate silence and a boy whose playing alone at night is a bit too odd to not set off alarm bells….it's all well produced but so far still pretty conventional stuff.
These routine haunting symptoms seem to relate to the passing of an elderly man in the neighboring apartment, which is still only mildly unsettling. At this point many viewers may be turned off by the oddly slow pace of events that follow, but it's punctuated by bits of weirdness that is also rather captivating and does factor into the story later on. Asuka notices members of her family having the same snippets of conversation over and over again and she is often at a loss for words, stuck on something that calls forth a fixated stare.
Where things lead to next is an exciting divergence from conventional horror, which is in fact, very moving. It delves into issues of loneliness, grief, and guilt in a way that evokes far more emotions that the genre is supposed to. And in a time where cases of depression and discussions of mental health seem to be on the rise, it is admirable to see such issues dealt with head on. So too is the challenge it poses to longstanding concepts of the nature of hauntings and the supernatural. Here the phenomenon is expressed as a strange flirtation between the presence of the deceased and the victim's psychological problems. What at first seemed like typical terror manifests itself in surprisingly vicious ways, bearing resemblance to addiction, obsessive…behaviors that are not out of line with psychological disorders.
While watching the film, I was already drafting this in my head and thinking how it might've been interesting to see the haunting aspect abandoned altogether for the psychological themes it pursues. But then along comes the conclusion, which takes all the pent up calm from earlier and unleashes a hell of a horror show, veering into psychedelic overload in the way it is depicted.
The horror that was expected has been replaced by something far more unsettling, leaving me both emotional and admittedly a little terrified.
THE COMPLEX features some strong performances. First by Atsuko Maeda, who may be well known as a member of Japanese pop monster AKB48 but is effective at playing the good willed but troubled young adult. Do not dismiss Hiroki Narimiya, who plays a cleaner of apartments that belonged to those who have died is also quite good as a supportive figure in Asuka's life. His strong features add a somewhat edgy goth sensibility to the look of the film, fitting in with its modern take on the supernatural.
The impressive changeup that THE COMPLEX offers actually puts it a little higher than LESSON OF THE EVIL (I reacted
here
) in my ranking of Japanese film objects in this year's New York Asian Film Festival. It is far less troubling for me to appreciate THE COMPLEX, to say the least. Though I certainly have more to say about the controversial Miike film. And with Japan Cuts forthcoming, there will be plenty of more films in the fray.
On tomorrow's agenda, though, is a full on four film freak-out bookended by Filipino films
THE FRIDGE and ANIMALS, and featuring South Korean romantic comedy VERY ORDINARY COUPLE and Hong Kong action suspense movie COLD WAR. Those looking to get an early start may want to check out Chinese period drama THE LAST SUPPER, reviewed by Steve
here
.