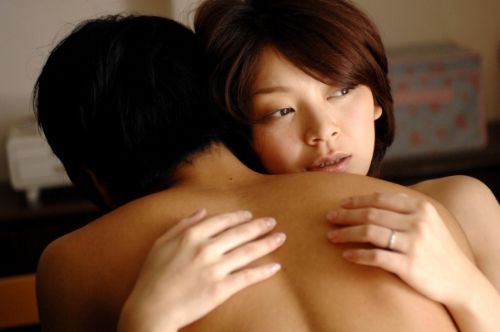 As Japan Cuts settles into its skin amid this 7th year of its existence, its propensity for bringing serious dramas that offer unique insight into the culture is as clear as ever. This year, however, programmer Samuel Jamier seems to be navigating for darker waters than usual. Two upcoming films of the festival that are accomplished works both steeped in social commentary are THE COWARDS WHO LOOKED TO THE SKY(fugainai boku wa sora wo mitai) and JAPAN'S TRAGEDY (nihon no higeki).
Directed by Yuki Tanada, COWARDS… begins in total darkness before a door is literally opened, as if granting a glimpse into a rarely acknowledged subculture. Two individuals adorned as characters from a scifi manga – a practice commonly known as cosplaying – are in the midst of an intimate sexual encounter. Their outrageous attire is contrasted by the drab bedroom where the escapade takes place, the male, Takumi, reading notes scribbled in pen about the fantasized scenario. To make the scene even more uncomfortable, Takumi is clearly a student, not yet of age, coupled with the adult woman, Anzu.
The story does not dwell on the subject of cosplay. This turns out to be one piece of a puzzle involving a diverse range of characters who reside in a town that feels smaller and smaller by the moment.
The film is shot plainly and without resorting to ostentatious flare. Sequences are sometimes repeated after some other significant occurrence is revealed, changing the context in which we see things. The cosplay affair is one of them, turning from shocking to something that feels like a sane, unremarkable reaction to overwhelming pressures. For the woman, Anzu, it is an act of escape from reality, brought on by her husband and mother-in-law who make for a Norman and Mom Bates like pair, the latter of which obsesses vindictively over Anzu's lack of reproductive activity. For the student, it is a combination of hormonal curiosity and a deep compassion for Anzu's situation, one that suggests an emotional maturity beyond his years despite the impending slip into compromising circumstances.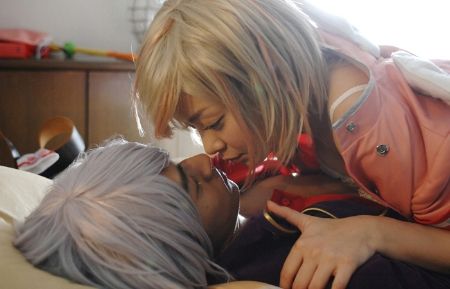 Other characters suffer fates beyond their control; be it aberrant desires, harrowing impoverishment, or abandonment. What they all share is the desire to escape from a suffocating small town existence, one in which they are shunned or subject of cruel rumors by the rest of the community. The habit of doing so feels so pervasive it even brings other victims to lash out at their suffering peers.

Meanwhile, Takumi's mother, a midwife, represents a relative outcast whose job puts her at odds with the mostly conventional values of the town, yet one who deals with uncomfortable situations with grace and rationality. Her unusual poise is shown to have a positive influence on her son. And Kento Nagayama plays Takumi with incredible sensitivity, which makes his fate one of dire consequence to the audience.
The film's unabashed social commentary brings to mind ODAYAKA, a film made in reaction to the earthquake of March 11 that strikes a similar chord (screened at the 2013 Tribeca Film Festival and reviewed
here
. While not addressing the disaster in any overt way, I wonder if it is joining what is possibly a post 3/11 movement of critical issue films.
JAPAN'S TRAGEDY from director Masahiro Kobayashi, on the other hand, does deal directly with the aftermath of the March 11 earthquake, although its subtext runs much deeper. Unemployment, economic strife, and alcoholism all factor into the troubled lives we see before us.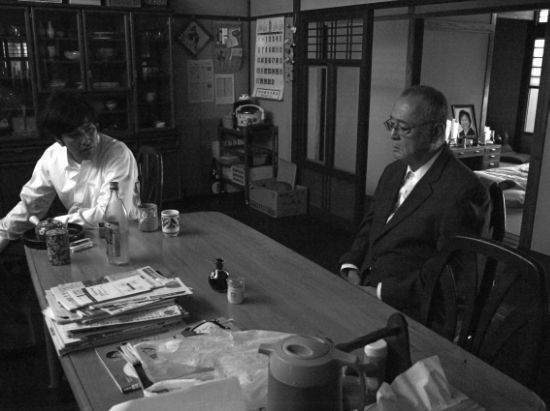 Shot in stark monochromatic black and white and with a maddening stillness (most scenes are shot in long, unmoving takes focused on one of a few rooms in a house), here we also feel as though we are looking in uninvited at a private, intimate existence. In this unspectacular dwelling a middle aged man, Yoshio , and his father, played by legendary actor Tatsuya Nakadai, pick at each other irritably. As their strained dialogue wears on, details of their sorrowful lives are revealed, involving the loss of loved ones to the earthquake's devastation.
Like the frame itself, Nakadai is largely sedentary. Confined to a chair at the kitchen table, or grieving before a shrine to his late wife where he vows to spend the rest of his days until death, it underscores a helpless inability to affect any change, and a weariness of life. Both he and Yoshio speak in pain-wracked tones, voices cracking, at times, to reach unrestrained registers of suffering.
A single depiction from the past is shown in color, standing out jarringly from the rest of the film. Yet, it serves mostly to make us aware of the darkened existence we've settled so thoroughly into.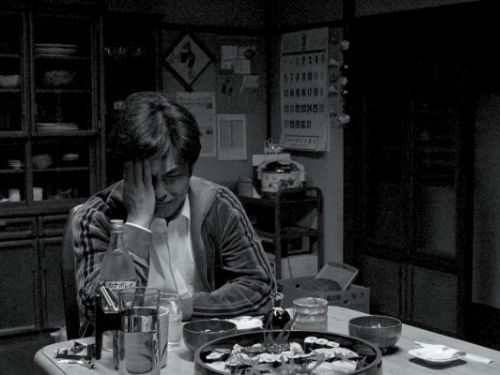 While JAPAN'S TRAGEDY plays like an endurance test, it is not a meaningless one. It's the kind one goes through to get oneself a bit closer to knowing of the world's most disconcerting truths. These are just two of the many film offerings Japan Cuts has set before us that allow us to do just that.
THE COWARDS WHO LOOKED TO THE SKY is being shown on Saturday, July 20 at 4 pm.
JAPAN'S TRAGEDY is being shown on Sunday, July 21 at 3:30 pm.


All screenings are being held at The Japan Society. Visit their
website
for tickets and more information.